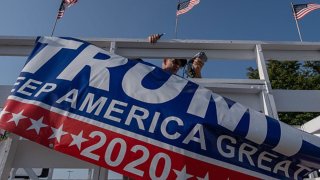 Five boats sank Saturday on Lake Travis while taking part in a parade in support of President Donald Trump, the Travis County sheriff's office says.
The parade began around noon and the sheriff's office said in a statement that they began receiving distress calls from boaters "almost immediately." The first call came in at 12:15 p.m. and the last at 1:53 p.m.
The sheriff's office responded to 15 distress calls ranging from boats taking on water and stalled engines to capsized and sinking boats. A local towing company also reported three additional reports of boats taking on water, officials said.
In all, five boats sank and two remained submerged Sunday, according to the department.
No deaths or injuries were reported.
The sheriff's office said there was no evidence of foul play.
"When the large number of boats began moving together, the wakes generated large waves in areas where participating boats were dense," spokeswoman Kristen Dark said in the statement.
Texas News
News from around the state of Texas.
Weather conditions were generally calm and meteorologist Paul Yura with the National Weather Service in Austin/San Antonio said there were no storms in the area at the time and winds were generally 10 mph or less.
"The lake should be fairly navigable, without issue at those wind speeds," Yura said.
Lake Travis is an approximately 19,000-acre impoundment about 12 miles northwest of Austin.
Copyright AP - Associated Press