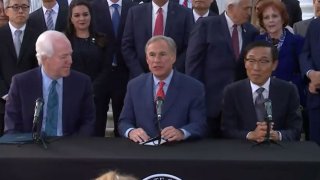 Samsung announced plans Tuesday to build a $17 billion chip-making plant in the Williamson County town of Taylor that will bring thousands of jobs to the Central Texas area.
Texas Gov. Greg Abbott (R) made the announcement at the governor's mansion Tuesday afternoon flanked by U.S. Sen. John Cornyn (R-Texas) and Dr. Kinam Kim, vice chairman and CEO of Samsung Electronics Device Solutions Division.
Abbott said the plant would create about 2,000 high-tech jobs and thousands of indirect jobs along with a minimum of 6,500 construction jobs. Construction should begin next year and chip production should begin in 2024.
The $17 billion in capital investments includes buildings, property improvements, machinery, and equipment for the campus.
"Companies like Samsung continue to invest in Texas because of our world-class business climate and exceptional workforce," said Abbott in a prepared statement. "Samsung's new semiconductor manufacturing facility in Taylor will bring countless opportunities for hardworking Central Texans and their families and will play a major role in our state's continued exceptionalism in the semiconductor industry. I look forward to expanding our partnership to keep the Lone Star State a leader in advanced technology and a dynamic economic powerhouse."
Abbott said Samsung has been given incentives at the federal, state, county and local level -- details of those incentives will be released Tuesday afternoon. A statement from the governor's office said the company was being provided with a Texas Enterprise Fund (TEF) grant of $27 million for their job creation. In addition, Samsung has been offered a $20,000 Veteran Created Job Bonus.
"As we add a new facility in Taylor, Samsung is laying the groundwork for another important chapter in our future," said Kim. "With greater manufacturing capacity, we will be able to better serve the needs of our customers and contribute to the stability of the global semiconductor supply chain. We are also proud to be bringing more jobs and supporting the training and talent development for local communities, as Samsung celebrates 25 years of semiconductor manufacturing in the United States."
The Wall Street Journal reported Samsung would also receive property tax breaks for 10 years. A deal with the Taylor ISD, KXAN-TV reported, would also grant 24 students internships with Samsung each year.
"The City of Taylor is honored to have been selected by Samsung as the site for this critically important project, and we look forward to a long-lasting and mutually-beneficial relationship between our community and the company."
A global shortage of semiconductor chips has hit automakers and technology companies, among others, hard this year, making it tough for many to bring products to market. The Biden administration has urged companies to onshore manufacturing supply chains, including semiconductor chips.
Samsung has operated a semiconductor plant in North Austin for several decades, with the first plant opening in February 1996. A second fabrication plant was opened in June 2007 and in August 2017 the Samsung Austin Semiconductor (SAS) complex was expanded to include more space for offices and production.
"Samsung Austin Semiconductor has been proud to call Texas home for more than 25 years," said Dr. Sang Sup Jeong, president of Samsung Austin Semiconductor in a statement Tuesday. "We are excited about our growth and future opportunities in Central Texas and appreciate the support from all Central Texas leaders."