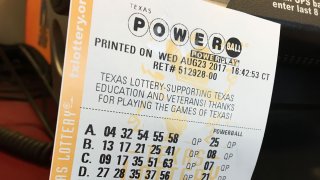 It's been weeks since someone won one of the multi-state lotteries, sending jackpots climbing into the hundreds of millions of dollars.
Local media in Tampa Bay, Florida, reported Thursday a single winning ticket was sold at a 7-Eleven store in Bonita Springs,
The Wednesday night Powerball drawing came with an estimated jackpot of $394 million, or a $274.6 million cash value.
The winning numbers in Wednesday evening's drawing of the "Powerball" game were: 09-12-15-31-60, Powerball: 2, Power Play: 2.
Friday night's Mega Millions drawing is worth $155 million or $108.3 million cash value. If there are no jackpot winners Friday, the Mega Millions jackpot will roll over and another drawing will be held next Tuesday night.
A $1 million second-tier Mega Millions ticket sold in Denton on Jan. 17 after a player matched all but the Mega Ball.
It costs $2 to play either game, but the odds of winning the jackpot aren't great or even very good. For Powerball, the overall odds of winning a prize are 1 in 24.9 while the odds of winning the jackpot are 1 in 292.2 million.
Texas News
News from around the state of Texas.
Lotto Texas has a current estimated jackpot of $5.75 million with a cash value of $4.32 million. That drawing will also take place Wednesday night. One ticket for Lotto Texas is $1.
Powerball set a world record jackpot of $1.586 billion in January 2016. The record prize was shared by winners in California, Florida and Tennessee. Mega Millions' largest jackpot was $1.537 billion in October 2018. There was only one prize winner in the Mega Millions jackpot, making it the world's largest lottery prize ever won on a single ticket.
Mega Millions and Powerball are played in 44 states as well as Washington, D.C., and the U.S. Virgin Islands. Powerball is also played in Puerto Rico.