The Texas House of Representatives Investigative Committee on the deadly Robb Elementary shooting held the first hearing on its fact-finding mission on Thursday.
The committee was created in the aftermath of the shooting in Uvalde, which left 19 elementary school students and two teachers dead in late May. Rep. Dustin Burrows of Lubbock serves as committee chair.
"It is our goal to conduct a thorough objective and non-partisan examination into the circumstances and work as quickly as possible to report our findings to our colleagues, so we as a chamber may move forward to determine the best possible solutions to prevent something like this from ever occurring again,' Rep. Burrows said Thursday.
The committee was established by House Speaker Dade Phelan on June 3. Speaker Phelan called it an "outrage" that Texans do not have a clear and accurate picture of what happened on May 24, the day of the deadly shooting.
All of the testimony Thursday was presented in Executive Session and was not made available to the public. According to Rep. Burrows, it is due to the "quasi-judicial" nature of the investigation.
Members of Texas law enforcement testified Thursday, including the Texas Department of Public Safety. A list of those who testified Thursday was not provided.
Texas News
News from around the state of Texas.
Framed photos of the 19 children and two teachers who were killed in Uvalde were placed outside the Texas State Capitol building as the hearing took place. Danny Zoldan is visiting from Australia and paid his respects.
"It makes it all too real, seeing all of this," Zoldan said. "Just see this over and over and over again in America is just...I can't believe it's still happening."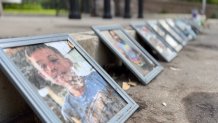 No decisions were made Thursday. The committee will meet again next week to hear more testimony.