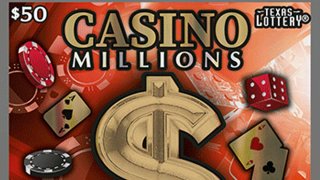 A Lancaster resident claimed one of the top prizes in the Texas Lottery's scratch-off game Casino Millions earlier this month.
The Texas Lottery said the winning ticket was purchased at 365 Food & Fuel #9, located at 1458 W. Pleasant Run Road, in Lancaster, and was claimed on Jan. 4.
The winner chose to remain anonymous.
The scratch-off game offers four $5 million top prizes, two of which have now been won. The first winning ticket was claimed on Jan. 3 by a player in Sour Lake, outside of Beaumont.
With approximately 6.6 million Casino Millions tickets in circulation, the odds of winning a $5 million prize in the game are 1 in 1,650,000.