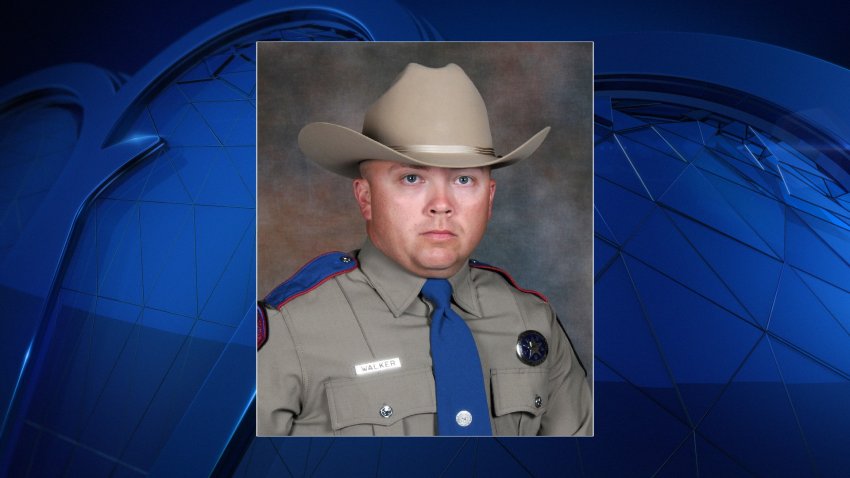 A Texas State trooper shot Friday, March 26 near Mexia died Wednesday, according to the Texas Department of Public Safety.
Trooper Chad Walker, 38, had "no viable brain activity" and was on life support so that his organs could be donated, according to the Texas Department of Public Safety.
The DPS said in a tweet at about 1:30 p.m. Monday that Walker would remain on life support "until he can share the gift of life as an organ donor."
"Our DPS family is absolutely heartbroken at the loss of one of our brothers in uniform who was killed in the line of duty," said DPS Director Steven McCraw.
"Texas Highway Patrol Trooper Chad Walker was committed to protecting the people of Texas. His sacrifice will never be forgotten, and we ask that you keep his family, friends and colleagues in your prayers during the difficult days ahead," McCraw said.
In a statement Wednesday, Texas Gov. Greg Abbott (R) issued a statement on Walker's death asking that all police officers turn on their emergency lights for one minute on Thursday to honor the slain trooper.
"Our hearts are with the family and friends of Trooper Walker as they grieve his tragic death in the line of duty. Trooper Walker's horrific murder is a solemn reminder of the dangers law enforcement officers face every day to keep our communities safe. We will always support law enforcement here in Texas, and we are indebted to the sacrifices that they make to serve and protect their fellow Texans. To honor Trooper Walker and all officers across the Lone Star State, I am asking law enforcement to turn on their red and blue flashing lights for one minute tomorrow afternoon at one o'clock, and I urge my fellow Texans to stand with our police and support them as they work tirelessly to keep our communities safe."
Texas News
News from around the state of Texas.
The Texas Department of Public Safety Officers Association said previously that Walker was called to assist a disabled motorist on Farm-to-Market Road 2848 Friday night near Mexia in Limestone County.
The association said as Walker started to pull behind the stopped vehicle a man got out of the driver's side and began to shoot multiple times into the patrol unit's windshield.
Walker was shot in the head and the abdomen and was taken to Baylor Scott and White Medical Center Hillcrest in Waco in critical condition.
On Sunday night, the DPS said Walker was still alive and that prayers for he and his family were appreciated. Walker is married and a father to four children.
The man who is believed to have shot Walker, 37-year-old Arthur Pinson Jr., killed himself on Sunday.
There have been 222 DPS officers killed in the line of duty since 1823, the most recent was Trooper Moises Sanchez who died Aug. 24, 2019, more than four months after being shot twice while attempting to apprehend a person who ran from a multi-vehicle crash.