Houston on Monday mourned George Floyd with an afternoon public viewing and an evening vigil as his death two weeks ago at the hands of police continues driving protesters, leaders and cities around the world into action over demands to address racial injustice and police brutality.
As the doors opened at The Fountain of Praise church in Houston, where Floyd spent most of his life, Floyd was lying in an open gold-colored casket, dressed in a brown suit and blue tie. His body was escorted to what organizers say will be a six-hour public viewing that was expected to draw thousands of mourners.
Mourners, many wearing masks and T-shirts with the words "I Can't Breathe," stood 6 feet apart as they paused briefly to view the casket. Some made the sign of the cross as they passed by. On the stage behind the casket were two identical murals of Floyd wearing a black cap that read "Houston" and angel wings drawn behind him.
Among those who attended the service was Republican Texas Gov. Greg Abbott, who has called Floyd's death a "horrific act of police brutality."
Comill Adams, her husband Lamar Smith and their children, 8-year-old Shermame and 10-year-old Saniyah drove 7 1/2 hours from Oklahoma City to attend the public memorial.
"We had been watching the protests on TV. We've been at home feeling outraged. At times it brought us to tears," Adams said. "The fact this one is causing change, we had to come be a part of."
Adams and her family wore matching black T-shirts that had "George Floyd 1974-2020" on the front and "I Can't Breathe" on the back. Adams said she had the shirts made for the memorial.
Floyd died May 25 after a white Minneapolis police officer pressed his knee into his neck for several minutes even after he stopped responding. His death has inspired international protests and drawn new attention to the treatment of African Americans by police and the criminal justice system.
During a candlelight vigil honoring Floyd, members of the Yates High School championship football team, of which Floyd was also a member, shared anecdotes of Floyd and sympathies for Floyd's family. Floyd family attorney Benjamin Crump and U.S. Rep. Sheila Jackson Lee.
Even as the service began, the impact of his death continued to resonate internationally. In Paris, France's top security official said police will no longer conduct chokeholds that have been blamed for multiple cases of asphyxiation and have come under renewed criticism after Floyd's death. And in Washington, Democrats in Congress proposed a sweeping overhaul of police oversight and procedures, a potentially far-reaching legislative response to the mass protests denouncing the deaths of black Americans at the hands of law enforcement.
Before the casket arrived, workers outside the church assembled a large floral arrangement with white roses on one side in the shape of a heart and with the initials "BLM," for Black Lives Matter, created from blue roses and placed on top of the heart. The other side of the floral arrangement was made up of red roses and appeared to be in the shape of a raised fist.
A majority of the Minneapolis City Council has vowed to dismantle the city's 800-member police agency. "It is clear that our system of policing is not keeping our communities safe," City Council President Lisa Bender said Sunday. "Our efforts at incremental reform have failed, period."
On Monday, Derek Chauvin — the officer filmed pressing his knee on Floyd's neck and one of four to be fired from the department in the aftermath of Floyd's death — made his first court appearance since the charge against him was upgraded to second-degree murder.
Floyd's funeral will be Tuesday, followed by burial at the Houston Memorial Gardens cemetery in suburban Pearland, where he will be laid to rest next to his mother, Larcenia Floyd.
Former Vice President Joe Biden met with Floyd's family and provided a video message for Floyd's funeral service. Previous memorials have taken place in Minneapolis and Raeford, North Carolina, near where Floyd was born. At the Minneapolis tribute Thursday, those in attendance stood in silence for 8 minutes, 46 seconds, the length of time prosecutors say Floyd was pinned to the ground under the officer's knee.
Floyd was born in North Carolina but grew up in Houston's Third Ward. He lived at the Cuney Homes and attended Jack Yates High School where he played football.
"This is a horrific specter of just seeing someone pleading for his life, and that plea not being answered. It was difficult to watch, and it made it harder because of the connection to the community," said Arva Howard, who is from the Third Ward.
She and her family visited the mural, which now serves as a memorial for Floyd across the street from where he grew up.
Howard said she grew up several blocks from the Cuney Homes and had friends who lived there too. She didn't know Floyd personally, but that doesn't stop the pain that she feels.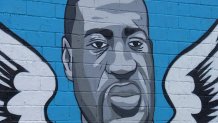 "I read where he said he was, 'Going to change the world,' and he is and I hope this change is permanent. I hope it's just the spark and I hope the solutions start pouring in faster than the tributes, so we can really see change that makes a difference," Howard said.
Floyd had deep roots in the community, especially when it came to the hip-hop culture. He was a member of the Screwed Up Click, or SUC. The group was led by the late DJ Screw who pioneered the music game and put Houston on the map for slowing downbeats.
Floyd, who was also known as "Big Floyd," appeared on several mixtapes with DJ Screw and they've resurfaced since his death.
"Not everybody gets to be a member of the Screwed Up Click, so that's a testament to his talents as a musician and if you talk to everyone from SUC they tell you how nice of a guy he was," said Bernard Freeman, better known as Houston rapper Bun B.
He didn't know Floyd personally, but he said he hs heard from others about his musical abilities.
"He was a talented musician he has his own screw tape which is really unheard of because usually screw tapes are shared experiences very different showcase. Everybody doesn't get to be a member of the Screwed Up Click, everybody doesn't get to have their screw tape with Screw, so that just shows you of how special of a person he was," Bun B said.
The Houston rapper has been on the forefront when it comes to the marches and has been a voice and philanthropist in the community. He said he believed Floyd's death was the straw on the camel's back and sparked a dialogue for change.
"I think we're starting to see a lot of people show their humanity, show their compassion for people, I would love to see that spirit going. I would love to see us come out of this a more unified and united world because of this, but also, you know, just level of equality. Personal equality, racial equality, I would love to see economic equality and an end to a lot of systemic racism," Bun B said.
Friends said Floyd moved to Minneapolis several years ago to change his life after some mistakes in the past.
Cities imposed curfews as several protests last week were marred by spasms of arson, assaults and smash-and-grab raids on businesses. More than 10,000 people have been arrested around the country since protests began, according to reports tracked by The Associated Press. Videos have surfaced of officers in riot gear using tear gas or physical force against even peaceful demonstrators.
But U.S. protests in recent days have been overwhelmingly peaceful — and over the weekend, several police departments appeared to retreat from aggressive tactics.
Several cities have also lifted curfews, including Chicago and New York City, where the governor urged protesters to get tested for the virus and to proceed with caution until they had. Leaders around the country have expressed concern that demonstrations could lead to an increase in coronavirus cases.
---
Associated Press reporter Will Weissert in Washington contributed to this report.
Copyright NBC 5 News and The Associated Press