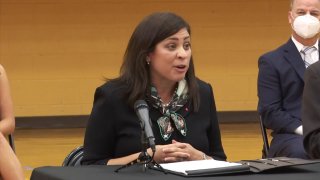 Texas Gov. Greg Abbott (R) appointed Rebeca Huddle, a former Justice on the First Court of Appeals, to the Supreme Court of Texas to replace Justice Paul Green who retired last summer.
"I am proud to appoint Rebeca Huddle to the Texas Supreme Court," said Abbott. "Rebeca's story truly represents the American dream. She is a first-generation American whose tireless work and dedication put her on a path to Stanford and the University of Texas School of Law. Rebeca brings to the court a strong work ethic and sharp legal mind as demonstrated by her extensive and accomplished record both in public service and private practice. Texans depend on a fair and impartial justice system and judges who follow the law as written, and I know that Rebeca will faithfully defend the Constitution and work hard for the people of Texas."
Huddle was introduced at Stephen F. Austin High School in El Paso, where she attended high school and just six blocks from where she grew up in Central El Paso.
"It is a tremendous honor to serve the people of Texas. I'm very grateful for the trust, Gov. Abbott, that you have put in me by appointing me to do this important work," Huddle said. "I'm really grateful to you, Gov. Abbott, for making this important announcement here today, in this place that is very dear to my heart."
Huddle, who was appointed to Texas' First Court of Appeals by Gov. Rick Perry (R) in 2011 and elected to a six-year term in 2012, vowed to come to work every day and faithfully apply the law as written and to not legislate from the bench.
"I will do my very best on every case," Huddle said.
The appointment comes after Place 5 Justice Paul Green retired on Aug. 31. According to Texas Democrats, Green's retirement intentionally came one week after the deadline for his replacement to be on the Nov. 3 ballot -- leading to the governor's appointment.
Texas News
News from around the state of Texas.
"After attempting to use the courts to stop Texans from voting, Governor Abbott is again thumbing his nose at everyday Texans by appointing a replacement instead of letting the voters decide. Green purposely timed his resignation to disenfranchise Texans and not let them choose their next Texas Supreme Court justice. That is dead wrong and against the fundamental principles of our democracy and the sanctity of the Texas Supreme Court," said Texas Democratic Party Chair Gilberto Hinojosa. "The people should choose their justices, not Greg Abbott."
In Texas, Supreme Court justices do not serve for life as in the U.S. Supreme Court. Texas Supreme Court justices are elected to staggered six-year terms in statewide elections. When a vacancy arises the governor may appoint a Justice, subject to Senate confirmation, to serve the remainder of an unexpired term until the next general election.
Green was last elected in 2016 and would have been up for re-election in 2022. Upon confirmation, Huddle will serve the remainder of his term and then be up for re-election.
Four other seats on the Texas Supreme Court are up for election on the Nov. 3 ballot. See key races, including those for the Texas Supreme Court, and other important information about the upcoming election here in our Voter Guide.
According to her biography on her LinkedIn page, she returned to her law practice in 2017. In her bio, she said during her tenure on the bench she authored "over 400 reasoned majority opinions." Before her appointment Thursday, Huddle was most recently a partner in charge of the Houston office of Baker Botts where she practiced in the areas of commercial litigation and appeals. Huddle earned a B.A. in Political Science from Stanford University in 1995 and her law degree from the University of Texas in 1999.