The body of a small boy found in a dumpster Tuesday morning is that of missing 2-year-old Frankie Gonzales, a boy reported missing Monday and the subject of a statewide Amber Alert, Waco police say. The boy's mother has been arrested and charged in the case.
Gonzales' mother, Laura Sanchez, called 911 and reported her son missing Monday at about 1:53 p.m., saying he was last seen at a splash pad at Cameron Park. She said she turned away briefly, looked back and he was gone.
First responders searched the nearby Brazos River and used bloodhounds to search the park, but the hourslong search came up empty.
Waco police said during a news conference Tuesday afternoon that the boy's mother apparently confessed her involvement in the boy's disappearance to family members who then called police.
During an interview with investigators overnight, Waco police Officer Garen Bynum said the boy's mom "may have broke a little bit" and that she then told investigators where they could find the child's remains.
Investigators then went to a dumpster found on church property near the intersection of North 27th Street and Alice Avenue and found the boy's remains.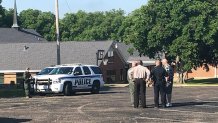 Bynum said the boy's exact cause of death is not yet known, but what they can prove is that the mother injured her child and that he did not die of natural causes. The boy's mother has been charged with first-degree felony injury to a child.
Texas News
News from around the state of Texas.
"As far as the charge itself, we went with that charge because it's absolutely what we can prove right now," Bynum said. "We will still have to wait on autopsy results for anything additional."
Bynum said more charges may be forthcoming against the boy's mother, but that they do not believe anyone else is involved based on her statements.
The location where Gonzales was reported missing and the area where a child's body was found are about two miles apart. Bynum said Tuesday afternoon that they do not believe the boy had ever been to Cameron Park and that the mom was using that story in an attempt to cover up the crime.
The Amber Alert was canceled at about 10:30 a.m. Tuesday.