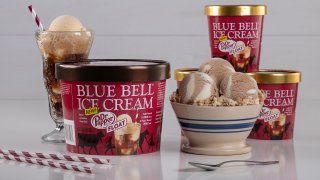 Two iconic Texas brands are joining together to fuse two classic flavors into one indulgent bite with the creation of Blue Bell's Dr Pepper Float flavored ice cream.
Blue Bell, no stranger to unique combinations in ice cream, announced the new flavor Thursday describing it as "creamy vanilla ice cream swirled together with a Dr Pepper flavored sherbet."
"Our Texas heritage is so important to us at Dr Pepper, and we are excited to team up with fellow Texas-born brand, Blue Bell, to create this new delicious treat," shared John Alvarado, senior vice president of Dr Pepper brand marketing. "We can't wait to provide our fans with another refreshing way to enjoy Dr Pepper."
"The best ice cream floats are made with Dr Pepper poured over a few scoops of Blue Bell," said Jimmy Lawhorn, Blue Bell vice president, sales and marketing.
I agree and I'm already wondering if putting two scoops in a soda glass and pouring even more Dr Pepper over the top is overkill or simply self-indulgent. We'll see.
Blue Bell said pints and half-gallon sizes of Dr Pepper Float should be available in stores Thursday, though they said in replies to customers on Twitter that it could take several days to get the ice cream to all locations.
The ice cream is a limited-run product but should be available through 2024.
Texas News
News from around the state of Texas.
Outside of Texas, Blue Bell is currently sold in 22 other states including Alabama, Arizona, Arkansas, Colorado, Florida, Georgia, Illinois, Indiana, Kansas, Kentucky, Louisiana, Mississippi, Missouri, Nevada, New Mexico, North Carolina, Ohio, Oklahoma, South Carolina, Tennessee, Virginia, Wyoming.