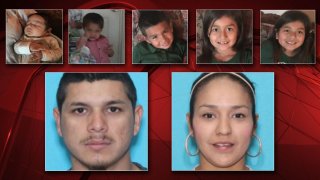 A statewide Amber Alert has been discontinued Friday for five children who were missing from south Texas.
Police in Crystal City, about 90 miles southwest of San Antonio, requested the alert for the missing children whose ages range from 11 months to 10 years old.
The Texas Department of Public Safety said they were looking for 11-month-old Jayden Lopez, 4-year-old Jordan Lopez, 7-year-old Ruben Lopez, 9-year-old Jolyne Lopez and 10-year-old Justine Lopez.
The active Amber Alert for the children was discontinued just before 8 p.m. No further information was given.