What to Know
Investigation into whether shots were fired at the base, and if so by whom, are ongoing.
No injuries were reported.
Base official says active shooter response was perfect.
Officials at Joint Base San Antonio gave the all-clear Wednesday afternoon after an active shooter warning was issued earlier in the afternoon over concerns that at least two shots were fired toward a building on the base from a location outside of the installation.
Lt. Col. Brian Loveless, commander of security forces at the base, said Wednesday afternoon that someone at a building on the base reported the gunshots at about 11:50 a.m.
Loveless said that while no one was seen shooting into the base and that investigators are still working to confirm what happened, they do have solid reports that two shots were fired into the installation.
Loveless was unable to confirm whether there was one shooter or two or where the shots may have came from. All of those details, Loveless said, are still under investigation.
The active shooter warning went out shortly before 1 p.m. CT warning all base personnel to immediately take cover while also alerting that the base was on lockdown.
At about 1:30 p.m., base officials tweeted there are no suspected injuries from the shooting and that the gunfire is believed to have happened outside the Valley Hi Gate.
Loveless said whether it turns out shots were fired or not, the important thing is that there were no injuries reported related to the shooting.
Loveless said the response from on-base security and local law enforcement was perfect and that they take every report of gunfire on the base seriously.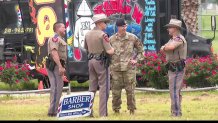 "I don't think there was an overreaction. I would rather overreact to something than underreact and get it right. We can triage whether or not we responded appropriately later on but as of right now I am 100% confident we made the appropriate response and made all the right calls along the way," Loveless said.
Texas News
News from around the state of Texas.
The appropriate response that we wanted to see was actually delivered today. Not only our response was perfect, but I appreciate the response from all our local and off-base agencies including SAPD, Bexar County Sheriff's Office, Texas Department of Public Safety, they all came when the call was put out. We can't do our job as efficiently without their support and the city's support as well," Loveless said.
The investigation into the reports of gunfire is ongoing.