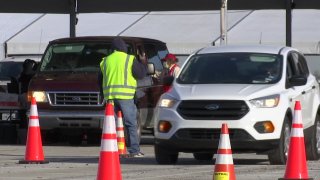 The Texas Motor Speedway prepares for its' second round of COVID-19 vaccinations after administering more than 27,000 vaccines in just three days last week.
Those in line for vaccines stayed in their vehicles and drove through the speedway's parking lot, stopping at tents with the Moderna and Pfizer COVID-19 vaccine to get their shot.
The 16-lane drive-thru location's only line was the one that required citizens to wait 15 minutes after getting the shot to make sure they did not have an allergic reaction.
The same system will be used again to deliver 22,000 first and second doses starting Tuesday, Feb. 9, according to Denton County Public Health.
The vaccinations will take place Tuesday from 9:30 a.m. to 5 p.m. and Friday from 7:30 a.m. to 5 p.m. The site's Thursday schedule was canceled to due freezing temperatures in the forecast.
"We do not want to bring our residents out on icy roads or have our crews and volunteers working in below-freezing weather," Denton County Judge Andy Eads said.
DCPH said in a statement Tuesday afternoon that appointments for Thursday had not yet been set and that those who expected to receive their second dose on Thursday will be scheduled for Friday afternoon.
The vaccination site is located at 2401 Petty Place at Texas Motor Speedway in North Fort Worth.
Individuals will be required to register through the Denton County registration portal. You do not need to be a Denton County resident to register to receive the vaccine in Denton County.
Want to Get on a Vaccine Waitlist?
County health departments have launched waitlists for adults 16 years old and over.
You can register to recieve the vaccination in Collin, Dallas, Denton and Tarrant counties. Links are below:
Waitlist Links: Collin - Search Waitlist | Dallas | Denton | Tarrant
You do not need to be a resident of the county to register for a COVID-19 vaccine in that county -- registration is open to anyone in Texas. For those without internet access, Tarrant County is also taking registrations by phone at 817-248-6299. In Dallas County, call the DCHHS vaccine hotline at 1-855-IMMUNE9 (1-855-466-8639). In Denton County, call 940-349-2585.
For a more detailed breakdown of who is included in each priority group in Texas, see this page from the Texas DSHS.
Vaccinations will be by appointment only.
In addition, the county is calling for volunteers for future vaccination sites. Those interesting in volunteering will need to undergo a background check and complete a one-hour training course at https://www.dentoncounty.gov/758/Medical-Reserve-Corps.
COVID-19 Vaccines
In Texas, the COVID-19 vaccines are currently available to anyone over the age of 12. The vaccines are still not approved for children younger than 12 however -- those trials are ongoing.
Once vaccinated, people who received either the Moderna or Pfizer vaccines are expected to get some level of protection within a couple of weeks after the first shot, but full protection may not happen until a couple of weeks after the second shot. For those who receive the Johnson & Johnson vaccine -- there is only one shot needed. Even when fully vaccinated, it's still possible to become infected by the virus since none of the vaccines offer 100% protection from infection. With that in mind, even if you've been vaccinated it's still a good idea to wear a mask and keep some separation between strangers or those whose vaccination status is unclear.