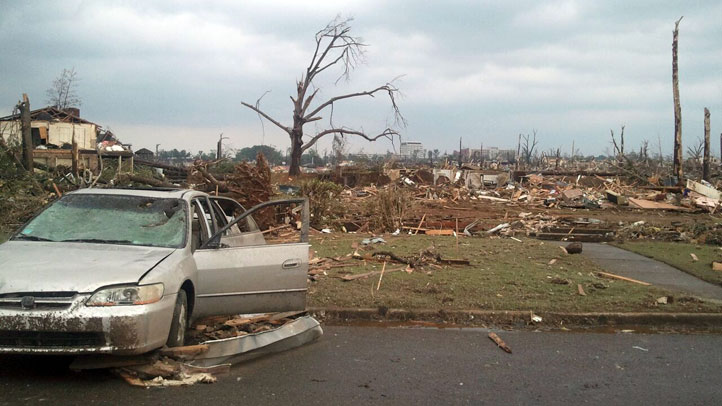 After a violent storm unleashed tornadoes that have killed nearly 300 people, most in Alabama, North Texans are mobilizing to assist in relief efforts in the Deep South.
Anita Foster with the Dallas Red Cross headed to Alabama on Thursday to begin relief coordination efforts.
"The word that we got last night was be prepared to walk into obliterated communities and a mass-casualty disaster," she said. "It's just the worst thing we hear. Some of our folks are impacted themselves, but yet they're getting those shelters open all across Alabama. It's just so much help that people need."
Local
The latest news from around North Texas.
NBC DFW's Ellen Goldberg, who is originally from Alabama, met several people directly affected by the tornadoes on a full flight to Birmingham, Ala., from North Texas on Thursday.
Sharon Maloney, of Southlake, was heading to Alabama to check on her two daughters, who attend the University of Alabama in Tuscaloosa.
"I spoke with her one time today, and I spoke with her one time yesterday, and it's just been so frightening, because she normally speaks to me all the time," she said. "We text, we call, and it's been really hard. It's like she's in a third world."
Jane Hagan, a senior at the University of Alabama, said she was bracing herself.
"It's going to be like going into an apocalypse, like a war zone," she said.
Foster said more trained Red Cross volunteers in North Texas are on standby in the event that they're needed to head to the Deep South to help.
"There will be a lot of Red Cross people who will be parachuting into Alabama and Mississippi," she said. "Just looking at the footage, it's just almost too much to bear. The numbers that we're getting of people who have been impacted is just really frightening. We are going to be there because we have thousands of people who are going to need assistance. So we're going to make sure they know exactly what to do, where to go and we have a lot of people that, sadly, we already know, have lost their loved ones and we're going to be there to make sure that we help them not have to worry about where they get food, or where they're going to stay. They can focus on what they need to and that's taking care of the rest of their family."
Locally, the storms spawned several tornadoes, but none were as catastrophic as the mile-wide behemoth that steamrolled through Tuscaloosa on Wednesday.
The Red Cross said only six families required assistance in North Texas, compared to the 2,700 people that stayed in Red Cross shelters in 12 states Wednesday night.
Texas Baptist Men, which provides service opportunities for Christian men, has sent two men to Alabama so far and said it's possible that more volunteers will be headed to the disaster zone.
Oncor Electric Delivery is dispatching as many as 80 of their service personnel and vehicles to assist in power restoration and storm cleanup in Arkansas. Oncor has not yet said if crews will be headed to Alabama or Mississippi as well.
World Vision, a Christian humanitarian organization, said it's domestic relief team will leave the Dallas area Saturday to assess the damage in Alabama and other nearby states.
As the damage assessment begins, we anticipate more North Texas organizations stepping forward to send relief to the Deep South. Check back and refresh this page for updates.
For updates on the tornado outbreak in the south, follow @RedCross @Mid_AL_RedCross or @RedCrossDallas on Twitter. The American Red Cross is asking the community to help the Red Cross by making financial contributions. Go to www.redcross.org or text the word "REDCROSS" to 90999 to give $10 or call 1-800-RED-CROSS. Additionally, Those interested can text "GIVE" to 80888 to make a $10 donation to the Salvation Army's relief efforts.
NBC DFW's Elvira Sakmari, Julie Tam and Ellen Goldberg contributed to this report.