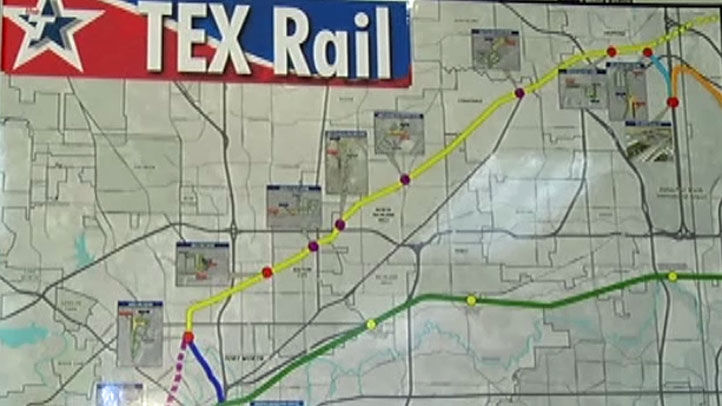 The first major step toward construction of a commuter rail line that would take passengers to Dallas/Fort Worth International Airport has been approved.
The Fort Worth Transportation Authority announced Tuesday that the Federal Transit Administration approved The T to advance to the preliminary engineering phase of the $757 million project.
"They have to go out and take borings, drill borings, along the ground along the right of way," said Dick Ruddell, The T president. "It's just a lot of detailed stuff like that."
Local
The latest news from around North Texas.
The TEX Rail line will connect southwest Fort Worth to DFW Airport. The connection at DFW will link with a Dallas Area Rapid Transit line as well as the Cotton Belt commuter rail line, which will connect to Richardson and Plano.
But the line is still at least four years away from completion.
The yearlong preliminary engineering study is the first of three major steps that the federal government must approve before construction can be completed.
"For us to move from this step -- the preliminary engineering to the final design -- we'll have to have agreements with all the railroads along the project," Ruddell said.
The final design phase will also take about a year, with construction to last two years after that.
"We're moving ahead. We've made progress. some of us would like to have seen it happen quicker, and we're going to try to accelerate that by working with the entire community, because this is a regional process," said Jungus Jordan, a Fort Worth councilman and chair of the North Texas Coalition of Governments Regional Transportation Council.
Jordan said during Tuesday's council meeting that he would like to bring the heads of The T, DART and Denton County Transportation Authority and local mayors to the table to help move along projects so that they are more than just visions.
Jordan said commuter rail is a big part of the area's future transit solutions.
"We'll never be able to build enough concrete roads to handle the future growth," he said.
The federal government will cover half the costs of the TEX Rail line. The rest will be paid for by multiple entities, including The T, the city of Fort Worth, Tarrant County, Grapevine and others through sales taxes, transit funds or the waiving of fees.
The federal government will cover half the costs of the preliminary engineering study, but the commuter line will still need more federal approval as the process moves forward.