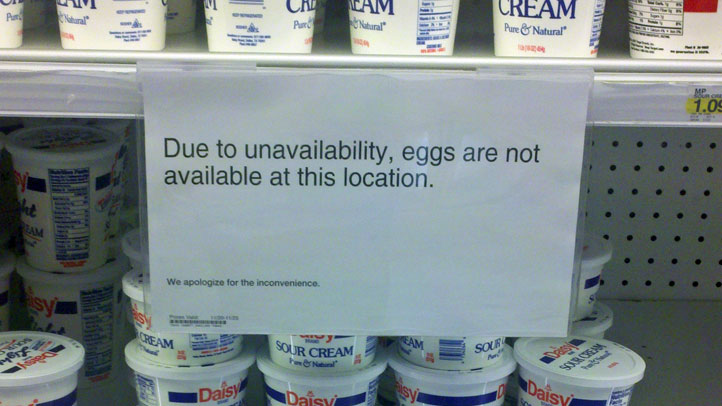 Jessica Schmidt and her daughters left Target Tuesday without the one thing that they really needed to finish baking for the upcoming Thanksgiving holiday ... eggs.
Nationwide, Target stores are scrambling to find egg suppliers just days before Thanksgiving after discontinuing their relationship with Sparboe Farms of Minnesota.
The farm was recently accused of animal cruelty after undercover video recorded at three of its farms showed workers swinging a bird by its feet, hens packed into cramped cages, beaks clipped off and male chicks being tossed into a bag to suffocate.
Local
The latest news from around North Texas.
"We certainly recognize that this is a really busy shopping season for our guests and we are looking super diligently to restock egg supplies in stores across the country," said Jessica Carlson, Target spokesperson. "Once we were made aware of the unacceptable conditions in Sparboe's egg-laying facilities, Target discontinued its relationship with Sparboe Farms and we removed all Sparboe produced products from our stores."
Reeling from the PR nightmare the release of the undercover video has brought upon them, Sparboe Farms president Beth Sparboe Schnell released the following statement on their website:
I was deeply saddened to see the video because this isn't who Sparboe Farms is. Acts depicted in the footage are totally unacceptable and completely at odds with our values as egg farmers. In fact, they are in direct violation of our animal care code of conduct, which all of our employees read, sign and follow each day.
We have an animal welfare code of conduct and policies regarding proper hen treatment. Our Veterinarian conducts training for all farm employees that emphasizes proper hen handling, daily inspection, euthanasia, food and water, health and veterinary care. As part of our code of conduct, employees are required to report any incidents of hen mistreatment to their supervisor. We received no reports of abuse from the activist who filmed these videos.
In the days since the videos were taken public, Sparboe has fired the employees identified in the undercover video and made changes to management at some of its farms.
McDonald's also recently dropped the egg supplier following both the cruelty charges and a letter from the FDA saying inspectors found "serious violations" at five Sparboe facilities that may have exposed customers to salmonella.
Meanwhile, Schmidt, who still has several pies to make before Thursday, supports Target's decision.
"I understand why they [Target] did it. I don't want to buy items where they bring cruelty to the animals, but at the same time it's not the best time frame to do it -- the week of thanksgiving," said Schmidt.
Carlson said the vast majority of Target stores will have some eggs in stock by the end of this week. Thanksgiving is, of course, Thursday.
NBC 5's Kevin Cokely contributed to this report.