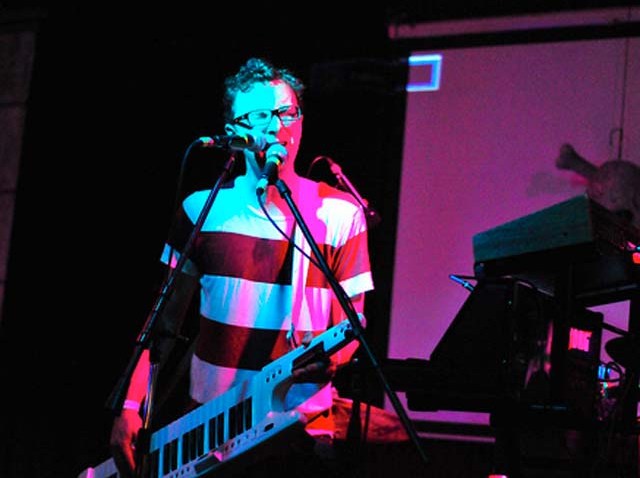 The Canadians took over Speakeasy last night, culminating with a high-energy performance from We Say Party! You Say Die! The new wave group from Abbotsford, B.C., hasn't been seen much on tour in recent years. Yet with a new album (XXXX) and a new North American tour in the works, they slid into the headlining slot of the Paper Bag Records set.
Two performances earlier, when Woodhands took the stage on Speakeasy's lower level, was when the dance floor grew packed. And for good reason. After SXSW 2009, a British magazine named them among the "10 Best New Bands on Earth."
Woodhands has in fact, just four hands total. Dan Werb is like a synthed-out, '80s version of Andrew Bird -- in the sense that he deftly switches between instruments, overlaying the sounds with interesting vocals that are only sometimes actual words. Pretty much all of Werb's instruments, however, are keyboards. He hops among four or five of them, as well as the keytar slung around his back, looping countless layers of electronic sound.
Local
The latest news from around North Texas.
Add to this the amazing live percussion of Paul Banwatt, whose skills are the drums are untouchable. And somehow, he also manages to run the fog machine.
At one point, Werb said to a very sweaty crowd, "Alright, we're gonna play a dance song now." It got a big laugh, as the front half of the corwd had been dancing nonstop since the set began. But then his comment actually turned out to have some levity, as the song that followed <i>was</i> in fact even dancier -- enough to make me throw my iPhone down and stop thumbing notes on my keypad for the rest of the set.