Garland police say they have arrested two people wanted in connection with the capital murder of a woman killed Tuesday while helping her family move into a new home.
Homicide investigators identified 20-year-old Kvaughandre Presley of Dallas and 21-year-old Gabriela Liliana Torres as suspects in the murder of 60-year-old Patricia Eifert, of Jasper, Texas.
Police said Eifert was the mother of a couple who had recently purchased a home on the 700 block of Briar Way and that she was alone at the home at about 7 p.m., helping the couple move in when she was killed.
Video surveillance from a Nest camera mounted across the street showed a black or dark-colored four-door vehicle behind the residence in the alley, police said.
"A female driver and male passenger, are seen exiting their vehicle and entering the garage. The female is described as a black female, medium build. The male is described as a black male wearing dark clothing," Garland police said.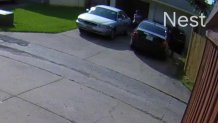 The video shows the man and woman checked other residences and cars before walking through the open garage door. At various points in the video, the woman, identified by police as Torres, can be seen taking items out of the garage and a car parked in the driveway and putting them into her vehicle. The video also shows the man, identified by police as Presley, leaving the home with something in his hands.
Local
The latest news from around North Texas.
When officers arrived, police said they found Eifert inside the home suffering from multiple gunshot wounds. Eifert, police said, was pronounced dead at the scene.
Garland police said they believe Torres and Presley were in the area of the 5100 and 5200 blocks of Barcelona Drive where they were involved in a hit-and-run crash and Presley pointed a gun at another individual.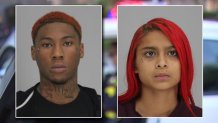 "What's most alarming, is that after this occurred, this murder occurred, they continued in the neighborhood burglarizing vehicles," said Lt. Pedro Barineau, with the Garland Police Department. "At one point and time, they actually hit a parked car. When they hit the parked car the owner of the residence came out and they tried to find out what happened but the male suspect produced a weapon and pointed it at that person. They eventually fled the location."
Garland police confirmed Thursday afternoon that Presley and Torres had been arrested. How and where they were tracked down has not yet been confirmed.
Police have also not said if Presley and Torres have been officially charged with capital murder or if they've obtained attorneys.
NBC 5 obtained court documents that show Presley has a criminal history in Dallas County including charges of theft of a firearm, engaging in organized crime, and unlawful carrying of a weapon in a weapon-free zone. Presley was charged with aggravated robbery in August 2020, but Dallas County District Attorney John Creuzot filed a motion to have Presley convicted on a lesser charge of theft of a firearm. On June 18 Presley was sentenced to nine months in state jail, of which he had already served more than 290 days.