Mesquite police on Monday identified the man accused of fatally shooting a 21-year veteran of the department last week while arresting documents obtained Tuesday highlight what took place in the moments around the fatal shooting.
Mesquite police confirm 37-year-old Jamie Jaramillo, of Balch Springs, is the suspect in the slaying of Officer Richard Houston and said he's expected to be charged with capital murder of a police officer.
Houston was shot twice Friday while responding to a disturbance outside a grocery store in the 1500 block of Belt Line Road. Police said Jaramillo also suffered a gunshot wound on Friday and remains hospitalized.
Police said Jaramillo's wife, 43-year-old Juventina Vasquez-Bences, was booked into jail late Friday on a charge of aggravated assault with a deadly weapon after Houston was shot in an Albertson's grocery store parking lot. The woman's charge is not directly related to the officer's shooting, police said.
According to an arrest warrant affidavit obtained by NBC 5 on Tuesday, Vasquez-Bences and her daughter confronted her husband and his girlfriend as they sat in a vehicle parked outside the grocery store.
The man's girlfriend tried to leave in her own vehicle but was blocked by Vasquez-Bences. The woman then called 911 and a short time later Officer Richard Houston arrived.
Police on Friday said the initial call involved two women in a disturbance.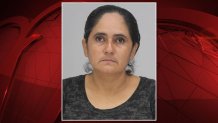 According to the affidavit, when Houston tried to talk with Jaramillo he pulled out a gun and shot him twice. Jaramillo then shot himself in the head.
Vasquez-Bences then picked up her husband's gun and walked over to his girlfriend's car where she allegedly repeatedly threatened to kill the woman while striking the window with the gun. The woman was not hurt and Vasquez-Bences was later arrested charged with aggravated assault with a deadly weapon.
The woman's daughter told the police that she saw her mother pick up the gun but that she didn't hear what her mother said to her father's girlfriend because she was trying to help both Houston and her father.
Jaramillo remained in the hospital Monday in stable condition, Mesquite police said in a news release. Vasquez-Bences is held on $100,000 bail and also has an immigration hold, according to Dallas County jail records.
Houston, who was married with three children, was transported to Baylor University Medical Center in Dallas after the shooting and was later pronounced dead.
"This is a senseless act of violence that ripped a loving father from his family," Mesquite Chief of Police David Gill told reporters Friday.
Hundreds attended a vigil for Houston outside the Mesquite Police Department Sunday night. A special donation webpage has been established to assist the Houston family with expenses.
A memorial outside the police department, which includes flowers and balloons around a police cruiser along with Houston's portrait, continues to grow.
Houston's funeral will be open to the public on Thursday at Lake Pointe Church in Rockwall from noon to 2 p.m. The family has requested a private graveside ceremony for the immediate family and the Mesquite Police Department family.