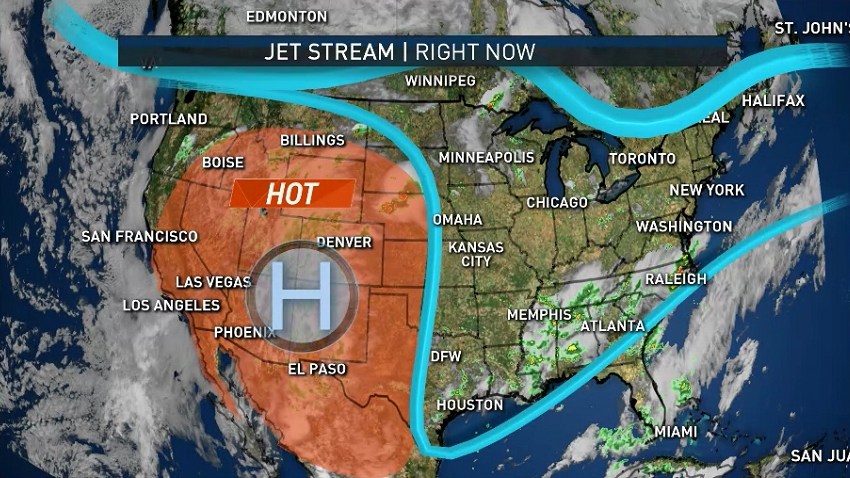 S Band Radar & Maps | Forecast | Weather Alerts
Traffic | Send Us a Photo/Video | Live Cams
For the first weekend in August, we didn't do too bad! Temperatures were in the upper 80s to middle 90s both Saturday and Sunday. While there were showers and storms around from time to time, it certainly wasn't a washout. On top of that, rainfall this time of year is always welcome!
As the new week gets underway, all eyes will be on the upper-level ridge of high pressure that has been hanging out to our west (over New Mexico). That ridge will slide east this week. By Thursday, the center of the ridge will be right over the middle of Texas. For you and me, that means a steady diet of hot afternoon temperatures for several consecutive days. [[520429551,C]]
Local
The latest news from around North Texas.
By mid-August, the computer models are hinting at another weak cold front visiting us. Until then, be prepared to endure more than a week of typical Texas summer heat. Do your best to keep your cool! [[520429621,C]]
Latest Video Forecast
The latest video forecast from NBC DFW's team of Weather Experts will appear in the player above. Keep up with the latest changes to the weather by downloading the NBC DFW smartphone App for iOS and Android!
Read the latest forecast information from NBC 5's team of Weather Experts here.
Before the Storm
Stay Connected. Download the NBC DFW App
Charge your phones and tablets so that if you lose power you can still watch live weather coverage in the App.
Weather Safety
Stay Safe During a Hail Storm
At Home?
Head indoors immediately
If time allows, close all drapes, blinds or shades to prevent broken glass from entering your home.
Stay away from windows and skylights (any exterior glass) and head to a safe location inside your home, ideally only with interior walls.
Outdoors?
Cover your head and seek shelter indoors immediately.
If you are trapped outside, get to a low-lying area and try to protect your head. Use clothing if it's all you have.
Driving?
Stay inside your vehicle.
Slow down or pull over and stop at a safe location. DO NOT stop under a highway overpass. You may be protecting your vehicle, but you could be forcing other people to stop behind you.
Turn your back to windows or cover yourself with a blanket, coat or spare clothing to protect yourself from breaking glass.
If you have a sunroof, try to find something to protect your head.
---
---