A soon-to-be-completed study on Dallas freeways includes the option of removing the elevated roadway that links Interstate 45 and U.S. Highway 75/Central Expressway.
The freeway is known to highway planners as Interstate 345 but no signs identify the elevated highway as such to drivers.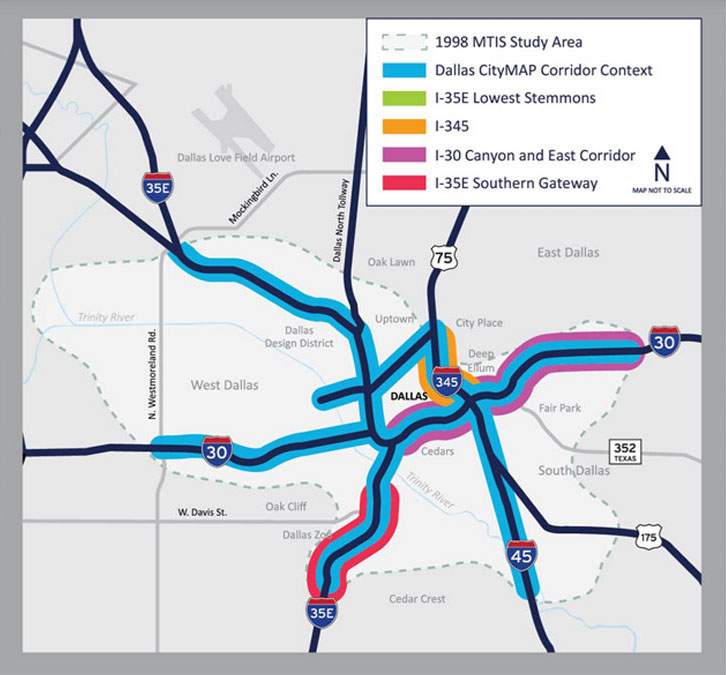 The idea of removing it was first suggested by a group called Coalition for a New Dallas, led by urban planner Patrick Kennedy.
Local
The latest news from around North Texas.
"It would allow us to reconnect the city street grid so that would allow us to accommodate that traffic more than that highway actually has. The trucks would go around the city so they're not coming through, polluting and congesting," Kennedy said. "Where right now we've got derelict property, vacant land, parking lots, those are not performing properties from a tax base standpoint. So we can replace that with city parks and development. Mixed use development would replace the highway."
The idea of removing such a busy downtown roadway was called crazy by some people at first. But Kennedy's group was thrilled to see the Texas Department of Transportation include the idea in a major study called "City Map."
The study is reviewing possible future improvements to the entire downtown Dallas Freeway Network. It includes the idea of adding new deck parks like the Klyde Warren Park that currently spans Woodall Rogers Freeway. Possible new locations include spanning the Interstate 30 Canyon downtown to reunite the Cedars neighborhood with Downtown, an I-30 deck park near Fair Park and an Interstate 35E deck park near the Dallas Zoo.
"This effort is really going to talk about the vision for all downtown Dallas highways," said TxDOT spokesman Tony Hartzel. "What should come first and what are the impacts of each of these ideas that come out."
Hartzel said the scenarios will be ranked with cost estimates included.
Neighbors and drivers have mixed reaction to the idea of just removing a busy Dallas freeway.
"Anything to help the transportation to move through Dallas is a good thing because it's just so congested," said downtown worker Scacia Schueler.
But her husband, Douglas Schueler, liked the idea of more deck parks like Klyde Warren Park.
"I think it's good for Dallas, absolutely," he said.
Downtown resident resident Rick Rodriguez said he likes the decorative art features on the I-345 elevated freeway.
"I don't think it's an eyesore, I think it looks great, if that's what they're talking about," Rodriguez said.
The City Map study is expected to be released in a few weeks, but actual projects will take years to complete.
TxDOT already has $30 million earmarked for repairs to the existing overhead I-345 bridge. The work is expected to keep it safe for another 20 years.