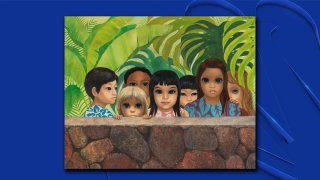 Nearly 50 years after a painting was stolen from a dentist office in Hawaii, the artwork will be reunited with its original owners.
Artist Margaret Keane was living in Honolulu in 1972 when she painted the work, known as Eyes Upon You, which depicted seven children looking out from behind a stone wall. The painting was meant to represent the racial diversity of Hawaii, and featured in the center the likeness of a 7-year-old girl, according to Dallas-based Heritage Auctions.
The father of the girl, who had given Keane a photo of his daughter to use in the work, purchased the painting and hung it in the waiting room of his dentist's office.
One day in November 1972, the employees went to lunch and left the door to the waiting room unlocked for patients who arrived early. When they returned, the painting was gone, the auction house said.
Despite a story in the newspaper and a reward, the family was unable to recover the painting until now.
Earlier this year, the woman illustrated as a child in the center of the painting, contacted FBI Art Crime Team agent Robert Wittman after she discovered it had sold through Heritage Auctions in December.
Wittman worked with Heritage, the seller and buyer to facilitate its return. The person who bought the painting for about $35,000 was refunded the money, Heritage said.
Local
The latest news from around North Texas.
In a ceremony Wednesday, Wittman accepted the painting on the family's behalf.
The family, who have chosen to remain anonymous, thanked Wittman and Heritage in a written statement.
"The painting holds a special meaning to our family because our father was fortunate enough to work with the artist and envisioned the concept and images on this unique piece of art," the family said. "We are grateful that our painting will be returning home to our family."
Wittman said it was not clear how the painting went from Hawaii to New Jersey, where a family purchased it from a gallery in the '80s. It had not been entered into the FBI's National Stolen Art File.
"These cases usually take a lot longer, there's a lot more effort, a lot of legal situations but in this happenstance, Heritage did the right thing," Wittman said Wednesday. "They're returning the heritage of a family to their family."