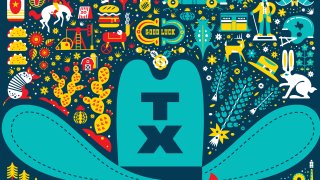 What do Willie Nelson, space shuttles and tacos have in common? They're all Texas icons -- and that is the theme unveiled Thursday for this year's State Fair of Texas.
The countdown is on with 204 days to go until the fair, which will honor the larger than life symbols of the state with the "Celebrating Texas Icons" theme.
Fair officials released a colorful poster with plenty of Lone Star icons that seal the deal: armadillos, cactus, barbecue, Sam Houston, bluebonnets and jack rabbits. There are motifs of iconic places like Cadillac Ranch in Amarillo, the Prada "store" art installation in Marfa, the Alamo and a sign for Route 66.
"Every year, we strive to commemorate and celebrate the Lone Star State, and all those who make our great state what it is," said Mitchell Glieber, State Fair of Texas President. "This year's theme is symbolic of all of our efforts to recognize the legendary status our icons have in our state's culture, and throughout the world - from details in fairground attractions to museum exhibits showcasing their accomplishments."
The State Fair runs from Sept. 25 until Oct. 18 at Fair Park in Dallas.