The State Fair of Texas is making a comeback.
Organizers announced Wednesday that the fair is making an in-person return on Friday, Sept. 24.
And this year's theme: "Howdy, Folks!"
"This year's commemorative theme art encompasses the foundation of what the Fair is all about – being together," said Mitchell Glieber, president of the State Fair of Texas. "None of us could have predicted all that the COVID-19 pandemic would bring with it, but we feel so grateful to carry on the State Fair's 135-year history and welcome everyone back with a warm, 'Howdy, Folks!,' this year."
"We're excited to make up for lost time and help families and friends from all walks of life reconnect again, while making new memories to last a lifetime," Glieber said.
Organizers said the fair may "look slightly different from every other year to ensure a safe environment."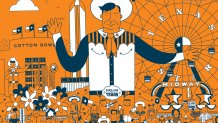 "As we welcome back everyone, health and safety of all fairgoers, vendors, and team members remains our top priority," organizers said in a news release. "The Fair will adhere to all applicable CDC guidelines in place during the time the Fair takes place, as well as any local, state, or federal guidelines."
Amid coronavirus restrictions, the State Fair of Texas was transformed into a drive-thru event for 2020.
News of a full-scale return in 2021 has fair vendors excited and relieved.
"It was like Christmas in June, so exciting," longtime concessionaire Christi Erpillo said. "We cannot wait to get back out there."
Erpillo's family is behind Fernie's Funnel Cakes and have been a part of the fair since 1969.
Last year's cancellation was devastating for many whose livelihood depend on the three-week event.
"This is it," said chef Abel Gonzales, who is known for his award-winning creations like fried cookie dough and fried PB&J. "It takes such a huge chunk of income, my entire business really revolves around the fair and so not having that, I mean, we went through some rough times and we're just starting to come out of that."
Like Erpillo and Gonzales, Isaac Rousso, the creator of the deep fried Cuban and cookies fries, said even before the fair's return was announced, he'd been working on submissions for the Big Tex Choice Awards.
"For us the fair's not just 24 days, it's a 365, you know, event for us," said Rousso.
All said they look forward to welcoming back hungry fairgoers with old favorites and new fried creations.
"Everyone is just ready to embrace this and get out and experience the State Fair again, and you know I feel honored and privileged to be a part of it," said Rousso.
It's the same excitement fueling livestock exhibitors, especially with rodeos scheduled each weekend night for the first time in more than 30 years.
"This year we anticipate that folks are ready to come to the fair. We're ready for them to come to the fair, so we want to provide a really high level of entertainment," said the fair's Senior Vice President of Agriculture and Livestock Daryl Real.
The events will be free with general admission and will include the Cowboys of Color Rodeo, the Mexican Rodeo Celebration and the State Fair of Texas Youth Rodeo among others.
The State Fair of Texas will run from Sept. 24 to Oct. 17.
Season tickets are available online.