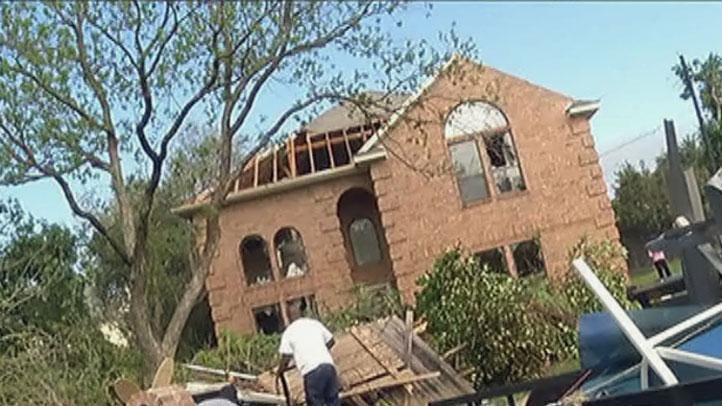 Neighborhoods were littered Wednesday with pieces of homes, tree limbs and people's belongings one day after an EF-2 tornado ripped through southwest Arlington.
More than 425 homes were damaged or destroyed in Tuesday's tornado.
Orlando Olague Jr. stepped through crumbled pieces of drywall and over loose pieces of lumber that dropped from the empty space that used be his roof.
Local
The latest news from around North Texas.
"This is into our living room here, or what used to be the living room," he said.
Olague has a clear view of the sky without obstruction from any room in his house.
"I have no idea where the roof is," he said. "Your guess is as good as mine."
It could be in Christina Walters' yard, about eight houses down.
"We've got other people's roofs in our yard," she said. "I think we have got a piece of the highway there, too."
Other parts of Olague's house were damaged. He picked up pieces of family pictures that were scattered in the rubble.
"Those were on these walls here," he said. "Now they're just torn up."
"This is just crazy," Olague said. "It's like something out of a movie. You never think it's going to his this close to home."
Brian Schopf said everything was still sinking in.
"I'm just sort of trying to deal with the aftermath of it and can't really think too far down the road and how it's going to sort itself out," he said.
Schopf wasn't home when the twister carried away his garage door.
"I have no idea where it is. I'm looking for it," he told a neighbor who was walking by looking for her children's outdoor playhouse.
"It looks like a different neighborhood," Walters said. "The trees and fences that used to be there are gone. I don't recognize it."
"It really gets you when you see people's personal belongings in your backyard," she said. "There's a toothbrush. That used to be in someone's bathroom. It just makes you think."
With so much to clean up, the question for some is where to begin.
"It's every corner of the front yard, backyard, the house. Everything seems like it's chaotic. A starting point is the hardest thing," Walters said.
"I worked here until about 1 a.m. just trying to figure out what to do," Schopf said.
With all the downed trees and debris scattered about, one can barely walk though his backyard.
"I went and got a hotel room last night, tossed and turned and got about 45 minutes of sleep," he said. "I was back out here at 8 a.m. this morning working on the house."
Nearly every homeowner in the damaged neighborhoods was out Wednesday morning and afternoon picking up the pieces at their home or helping a neighbor.
"Oddly, it's really brought the neighborhood together," Schopf said. "I've met neighbors I've never met before. Everyone is really trying support each other and sharing stories about what they've lost and feeling fortunate about not having lost more."
And some items did survive.
"The Easter eggs we made a couple days ago and were sitting right there in that corner, untouched," said Olague, pointing to a corner of his wrecked living room.
But residents said that what matters most is that everyone survived.
"We're all alive, and nobody got hurt, and that's the best part," Walters said.
Olague echoed the sentiment.
"We rebuild; we move on," he said. "It's just a little bump in the road. It could be a lot worse -- a lot worse going into the Easter weekend."