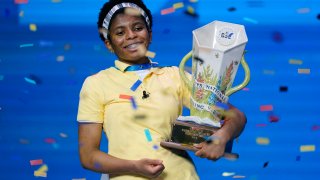 Scripps National Spelling Bee's champion Zaila Avant-Garde just received an invitation to be a special guest at College Park when the Dallas Wings basketball team plays on Aug. 15.
Avant-Garde received a congratulatory video call from her favorite WNBA player, Wings guard Moriah Jefferson, in a recent video shared on the Dallas Wings official Twitter account.
In the video, Jefferson says, "Congratulations on winning the spelling bee, that's a huge accomplishment, I know myself would have been extremely nervous, so I'm super proud of you. I've been watching your videos nonstop. I have no idea how you do what you do with the basketball and just the spelling alone is incredible."
Avant-Garde who is 14, made history as the first African American to win the spelling bee last Thursday. But she has made it clear that spelling is a side hobby, her real focus is on the court as to where the basketball prodigy hopes to play in the WNBA or possibly coach in the NBA. Avant-Garde holds three Guinness World Records for dribbling multiple balls simultaneously and has had the chance to appear in a commercial with NBA star, Stephen Curry.
Avante-Garde accepted the basketball game invitation from Jefferson. The Dallas Wings are set to play against the Connecticut Sun in Arlington on Aug. 15.