Southwest Airlines debuted its latest state-themed aircraft, honoring the State of Louisiana and the City of New Orleans. Southwest's first served New Orleans in 1979, marking the first destination outside of Texas for the airline.
The aircraft decorated in a rendition of the state's flag was dedicated Wednesday at Louis Armstrong New Orleans International Airport complete with a traditional second line band and local dignitaries to dedicate the aircraft.
"Southwest has been dedicated to the New Orleans community for 39 years," said Gary Kelly, Chairman of the Board and Chief Executive Officer for Southwest Airlines. "I can't think of a better way to show our commitment to the state of Louisiana than with the dedication of Louisiana One, honoring our loyal Customers and Employees."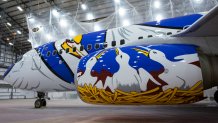 The Boeing 737-700 is painted in Southwest's trademark colors but also features an artist's rendition of the Louisiana State flag, with a large pelican adorning the side of the fuselage. A group of three birds are also depicted in a nest on the plane's engine.
"This tribute to the Pelican State is a demonstration of our valued partnership with Southwest Airlines," said State of Louisiana Governor, John Bel Edwards. "We are honored that Louisiana One will be an ambassador for our great state flying throughout the country."
Southwest started with one nonstop flight in January 1979 from Houston to New Orleans and today operates more than fifty daily nonstop departures to 21 destinations from the New Orleans airport.
Local
The latest news from around North Texas.
Southwest's state-themed jets started in the 1990's with the debut of Lone Star One. Since then the airline has had custom designs for Arizona, California, Colorado, Florida, Illinois, Maryland, Missouri, Nevada, New Mexico and Tennessee.