The son of popular radio host Hal Jay died Tuesday evening in a one-vehicle crash on a wet roadway in Erath County.
Dub Gillum, a senior public information officer with the Texas Department of Public Safety told the news site "The Flash Today" that Joshua Harbuck, 36, "was killed when he lost control on the wet road and skidded ed off the east side, rolling and coming to rest on the vehicle's top."
The article also said Dean Papaliodis, a passenger, was not injured, and that both wore seat belts as they traveled home from Austin where they'd been on business.
Local
The latest news from around North Texas.
Josh Harbuck was the oldest son of WBAP 820 News Talk morning show host Hal Jay.
Word of Jay's loss stunned his colleagues, but they quickly realized they needed to break the tragic news to Jay's family of loyal listeners.
The station announced Harbuck's death during the broadcast on Tuesday morning.
Co-host Brian Estridge shared a tribute to Harbuck with listeners.
Jay joined WBAP 820 in 1981.
Stories about his wife, Ann, and their sons, Josh and Carter, quickly became part of the broadcast.
Listeners chuckled and wept as Jay shared his journeys of fatherhood and watching his boys go from toddlers to teenagers to married men.
Listeners shared their memories on NBC 5 Deborah Ferguson's Facebook page.
Betty Hickson wrote, "I have awakened to WBAP for 30 years. I felt like I knew Josh from all of Hal's stories. He is so proud of his boys. My heart breaks for the family and I pray they find some comfort in all the love surrounding them, Godspeed, Josh."
And Sheila Griggs Shallcross wrote, "Even though I have never met Josh, I have always felt like I knew him and loved him due to the wonderful stories I've heard about him and the family through Hal. I want to send prayers and comfort to the family for the devastating loss of their much-loved son."
Harbuck stood 6'6" and had a personality as big as his frame.
He shared his father's quick wit and his mother soft brown eyes.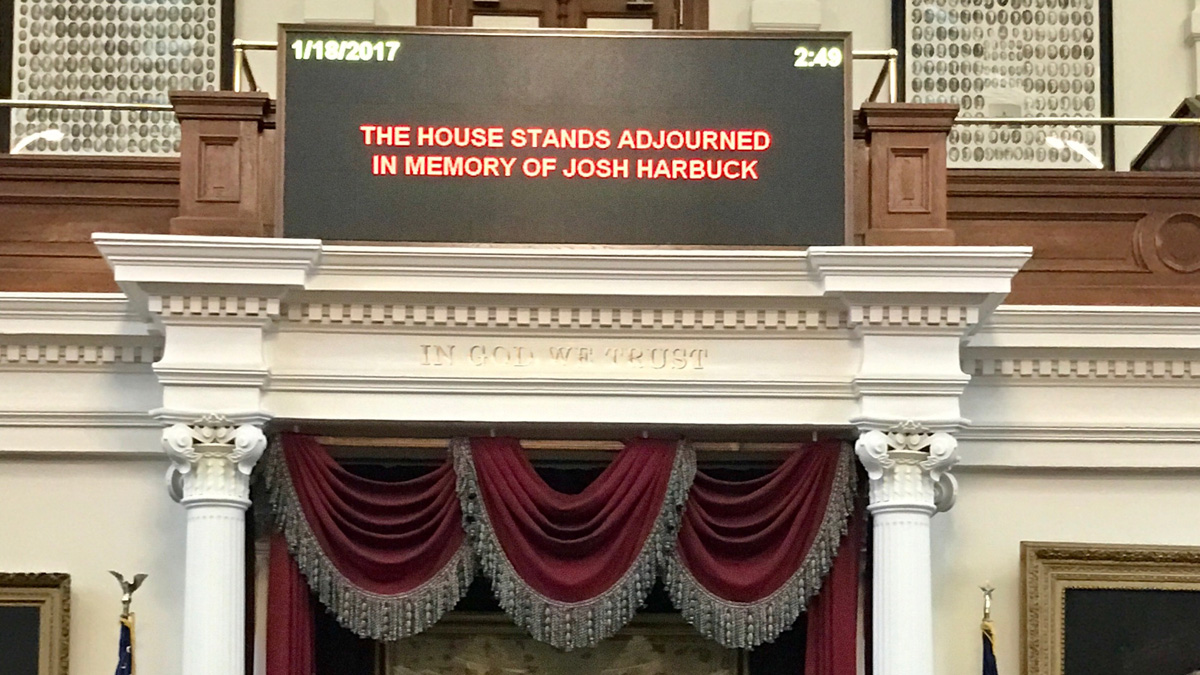 He graduated from Arlington Heights High School in the Fort Worth ISD, then played football for and graduated from Texas Christian University in 2002.
Two years later, Harbuck married his wife Emery. His son, Hudson, soon came along, later followed by daughter, Harper.
Harbuck told photographer David S. Irvin in 2012 that his "favorite thing in life is when he comes home from work and hears, 'Hi, Honey, and two little voices scream 'Daddy.'"