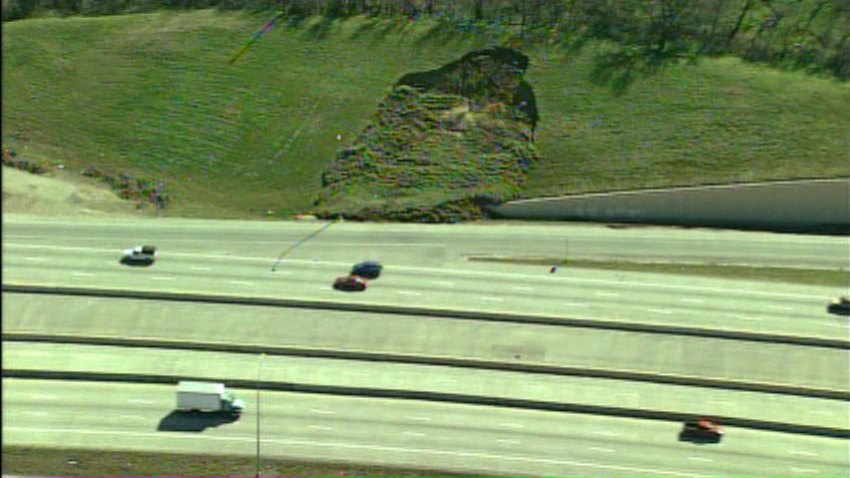 With more rain in the forecast, road crews are keeping a close eye on a landslide in Grand Prairie.
A massive chunk of land slid down an embankment along Interstate 30 near Belt Line Road. The landslide has inched its way to within a few feet of an onramp.
Texas Department of Transportation spokeswoman Michelle Releford said the department will close lanes of traffic, if necessary, while it works to secure funding for emergency repairs.
Local
The latest news from around North Texas.
"This is a No. 1 priority," Releford said. "We are not going to let our motorists be in danger."
But driver Juan Morato said he isn't convinced.

"It's not safe," he said. "It's a little dangerous. There's a 50-50 chance it's going to break open."
TxDOT said the landslide at I-30 and Beltline Road is the worst of the more than 50 it is monitoring. The agency said the unusual amount of recent rain and snow has left the ground very saturated and prone to landslides.
"I understand to the layman that it's a little unnerving," Releford said. "We've got it under control, and we are monitoring it daily."
Driver Frankie Blair said he's willing to take his chances.
"I don't think the mud is going to come crashing down," he said. "You know, it's not like it's California and their mudslides."
TxDOT said it hopes to have some temporary repairs completed in the next few weeks.
NBCDFW's Frank Heinz contributed to this report.
---
Check out NBCDFW's full coverage of the 2010 Winter Olympics in Vancouver, complete with amazing photo galleries, athlete bios, schedules and more! Friend us on Facebook and on Twitter