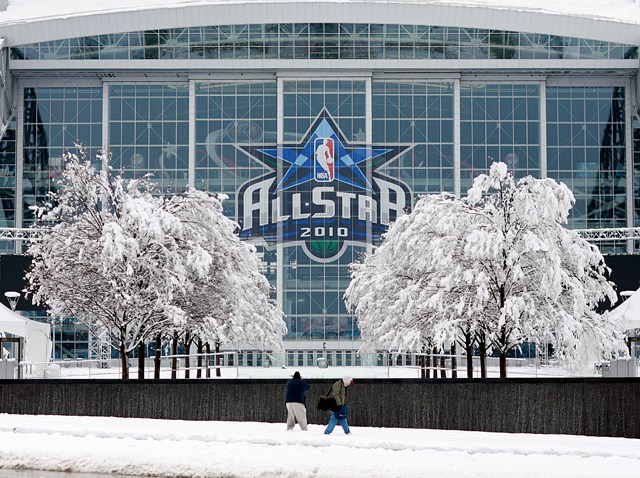 Snow? Sleet? Airport and road crews are ready to deal with bad weather during Super Bowl week.
A massive, bright yellow snowplow that looks like something you might see on the streets of Green Bay, Wis., is parked on an airport tarmac in Arlington.
"We get to use it all week in case we have bad weather," said Bob Porter, manager of the Arlington Municipal Airport.
Local
The latest news from around North Texas.
A Wisconsin company lent the $380,000 snowplow to the Arlington airport to clear ice and snow from taxiways and runways. The airport expects more than 100 aircraft during Super Bowl week.
The National Weather Service said freezing rain is possible Tuesday, and colder than normal temperatures are expected throughout the week. The overnight low Wednesday could be around 20.
"Oh yeah, we're a little bit worried about Tuesday," Porter said. "With temperatures and rain in the forecast, hopefully we won't have to crank it up, but it's here if we need it."
If needed, up to 70 extra sand trucks will be available throughout the Dallas-Fort Worth area for bad winter weather, regional planner said.
"We have a plan ready for a worst-case scenario event or events, plural," said Texas Department of Transportation spokeswoman Cynthia Northrop-White.
TxDOT got a practice run during last year's NBA All-Star weekend, when record crowds collided with record snowfall.
For the Super Bowl, TxDOT has sand trucks ready to roll in from as far away as San Antonio, Amarillo and Brownwood.
"There's a 48-hour window that we are looking at, monitoring that weather, and, depending on that, we can pull them in here and get them really quickly," Northrop-White said.
The priority will be to keep traffic moving from all the different venues in between the different cities. Dozens of extra tow trucks also will be on standby to respond to any crashes and keep the roads clear.