Crews say it may take a couple of weeks before a large sinkhole near a popular entertainment area in Fort Worth can be repaired.
The sinkhole opened on Carroll Street at the W. 7th intersection, near the city's bustling Cultural District, just before 9 a.m. The immediate area is home to Montgomery Plaza, a popular entertainment and residential development west of downtown.
"Very high traffic. Always a lot of cars coming through," said Jacob Langford, who stopped to take a photo. "Not a good place to have it."
"Stuff like this doesn't happen in Texas," said Emily Love as she sat down to have lunch at Velvet Taco, right next to the sinkhole. "It happens in Alaska or Florida."
"Just another day at Velvet Taco," said manager Eddie Morolez, who took photos of a Lexus that ended up partially in the sinkhole. "I went out there and was like, 'Oh, there's a car in a hole. That's crazy!'"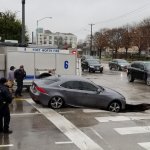 Until the hole is repaired Carroll Street will remain closed between W. 7th and W. 6th streets. Traffic on westbound W. 7th has been reduced to one lane, though drivers are being allowed through the intersection. Eastbound traffic on W. 7th is not affected.
Local
The latest news from around North Texas.
The city says a storm water line, buried approximately eight feet below the pavement failed, leading to the collapse.
Greg Simmons, one of the assistant directors for the Transportation and Public Works Department, said a contractor is scheduled to assess the damage underground on Friday with work likely beginning Saturday.
It's unclear how long repairs will take, as the contractor determines how much pipe will need to be replaced, but it could take up to two weeks.
"We have a storm drain line under there that has separation in it. That's what was causing the erosion under the road," said Simmons. "Depending on how much pipe has to be replaced will determine how much excavation has to be done."
Simmons said crews estimate the sinkhole is 20 feet by 12 feet at the surface.
It's not clear how old the pipe is, it's made of concrete and located in an older party of town.
"When you have a separation in the pipe, anytime it's raining you're having that issue," explained Simmons. "We've had a really rainy fall so it's probably accelerated what was going on there."
NBC 5's Noelle Walker contributed to this report.