A man is dead after being shot by deputies who say he pulled out a gun in a crowded Buc-ees parking lot in Denton Friday morning.
According to Denton County Sheriff Tracy Murphree, Marlon Aaron Bonds was wanted in connection with a shooting at a Sam's Club in Fort Worth on Thursday that injured his girlfriend.
Because he was considered dangerous and had threatened others after the shooting in Fort Worth, Murphree said deputies were going to wait on a task force to arrest Bonds but when they saw him open his trunk it appeared he was arming himself.
Officials said Bonds did pull out a gun and that he was shot when he refused.
"Unfortunately there was a loss of life, but that's on him, not on us," Murphree said Friday.
NBC 5 employee Andrew Tate happened to be in the parking lot when the shooting occurred. He said he was standing near the car wash when he heard someone yell, "hands up!" followed by three loud pops.
Bonds was transported to an area hospital where he later died. No officers were injured in the incident, officials said.
From Texas Sky Ranger, Denton police and deputies with the Denton County Sheriff's Office were seen investigating two areas bound by crime scene tape -- one near the sidewalk at the front of the store and another near some gas pumps.
A large number of evidence markers, at least seven, were seen on the ground. The markers are frequently used to indicate where shell casings fell in a shooting.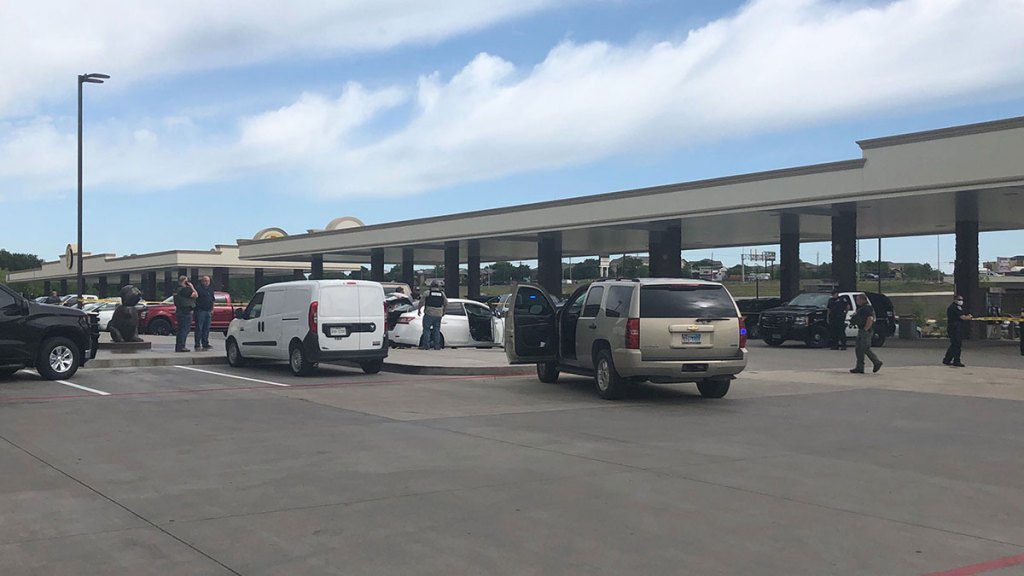 From photos shared with NBC 5, police vehicles were seen surrounding another vehicle parked in front of the store.
NBC 5's Don Peritz and Ken Kalthoff contributed to this report.
Editors note: An earlier version of this story identified the suspect as Aaron Brooks. The name has been changed to correctly reflect Marlon Aaron Bonds.