Three people are recovering after being chased from a Richardson IHOP into Dallas where they were shot just off Central Expressway Thursday morning, Dallas police say.
While they haven't revealed the motive, officials with the Dallas Police Department confirmed gunfire outside a Richardson IHOP restaurant was connected to a triple-shooting in Dallas.
Richardson police said someone opened fire from a moving vehicle at another car outside the restaurant near Spring Valley Road and Central Expressway early Thursday morning. The gunman is believed to have then left the scene, chasing his victims into Dallas.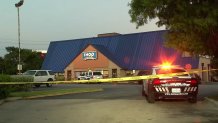 A short time later, Dallas police, who had been alerted to the shooting in Richardson and warned the gunman may be headed their way, were called to investigate a report of a triple-shooting in Uptown south of Fitzhugh Avenue.
Officers arrived at the scene and found a maroon sedan with the back glass shot out and a number of bullet holes in the front windshield. Inside the car they found three gunshot victims, two of whom were taken to Baylor Medical Center while the third was taken to Parkland Memorial Hospital.
The condition of the three are not known.
Local
The latest news from around North Texas.
Officers from the Dallas and Richardson police departments cordoned off the car with crime scene tape and blocked road traffic while the scene was investigated. The road reopened to traffic after 7 a.m. Meanwhile, in Richardson, police recovered shell casings on the ground in the IHOP parking lot, but said no one inside the restaurant had been injured in the shooting.
Police have confirmed no other details.
NBC 5's Josh Ault contributed to this report. Check back and refresh this page for the latest information.