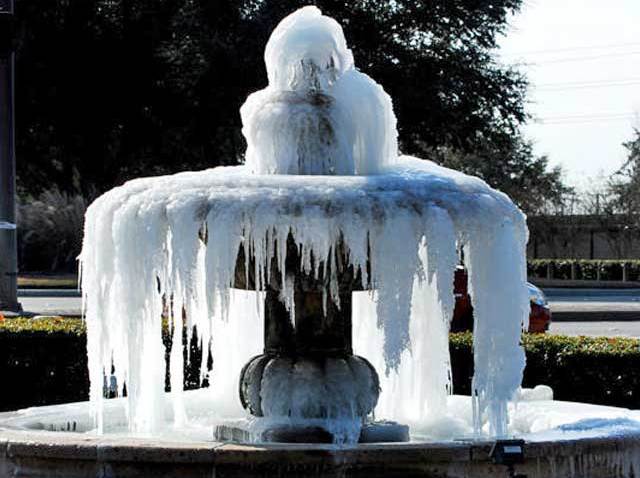 An Arctic cold front pushed into the Metroplex early Thursday morning, bringing bitterly cold weather into North Texas that is expected to last through the weekend.
Temperatures are not expected to rise above freezing until Saturday afternoon, and the wind chill is expected to dip below zero. The temperature dropped to 13 degrees at Dallas/Fort Worth International Airport on Saturday morning, one degree shy of the record low of 12 set in 1977, said NBCDFW meteorologist Samantha Davies. Get a complete forecast here.
Many Dallas residents opted for a cozy night at home Friday, saying it was just too co
Local
The latest news from around North Texas.
"It's very cold this week, and this weekend, I'm probably going to stay in, because it's just windy and cold, and I'm looking forward to Sunday when it's above freezing," Brent Glover said.
With the extreme winter weather, the Red Cross and local officials are advising North Texans to take precautions to stay safe and warm over the next few days, especially in their homes.
The National Fire Protection Association states that heating equipment, like space heaters, are the No. 1 cause of home fires during December, January and February and the second-leading cause of home fires year-round. Most accidents involving space heaters are the result of human error -- heaters are placed too close to combustible material like drapes and furniture, or they have not been properly maintained. (Read more here about taking precautions during extremely cold weather.)
But power companies are also encouraging people to turn down the heat a notch to conserve energy. The bitter cold has generated two winter peak demand records in as many days on the state's biggest electrical grid.
"Try to keep your thermostat at 68 degrees," said Oncor Electric Delivery spokeswoman Jeamy Molina. "I know that's kind of iffy, but it's going to help you out in the long run to hopefully help your usage come down and help you become more energy efficient in your homes."
She said people who have their heat running high may be in for a surprise when their electric bill arrives next month. (Read more about the big energy demands the cold snap has generated.)
STORM PREPS
In Dallas, code compliance crews continue to look for businesses or residents who may be violating city rules by running a sprinkler during inclement weather. The runoff can cause roads to ice over and pose a danger to drivers. Dallas& Water Utilities also has repair crews on standby in the event of a water main break.
The Dallas Police Department activated a plan Wednesday to locate unsheltered homeless persons and take them to the Bridge, Dallas' homeless assistance center. (Read more here about Operation Code Blue.)
The Dallas ISD canceled all outdoor athletic activities from Thursday through Saturday due to the impending cold. (See a complete list of school delays and closings here)
Finally, don't forget your pets. Even animals that live outdoors most of the year should be brought inside during times of inclement weather.
"If you're cold, your outdoor pets are cold," said Jonnie England, director of Animal Advocacy for the Metroplex Animal Coalition. "The body temperature of dogs and cats is just a little higher than a human's, so even though they're wearing 'fur coats,' they're still going to suffer in weather this cold. If it's not feasible to bring the pets inside the house, at the very least, they should be set up in a draft-free garage or storage building with plenty of dry, clean bedding." (Read more about taking care of pets in extremely cold weather.)
On Monday, temperatures are expected to rise back into the 50s with a low of 28. On Tuesday, sunny weather is expected with a low of 43.
Lita Beck contributed to this report.