In honor of Clear the Shelters taking place on August 19 this year, we're highlighting some sweet stories of success from North Texans who gave a forever home to a furry friend.

DOC DODGES DEATH
Doc was adopted in the nick of time. Nicole says the Bassett/Lab mix was one of the many animals featured at an adoption event at Petsmart.
When Nicole found out Doc had been at the shelter so long that if he didn't get adopted that weekend he'd have to be put down to make room for other animals, she stepped up to give him a forever home in Roanoke.
"He is the most sweetest loving dog," Nicole said. "He loves to follow us everywhere."
REBEL AND RORY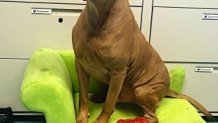 Rebel, a resident at Hurst Animal Services, was featured on Facebook and when Melissa saw him in a friend's post, she knew they had to meet him. So Melissa and her husband Chris called the shelter and met Rebel that night.
Local
The latest news from around North Texas.
Because Rebel is a big boy, and Hurst Animal Services' staff wanted to make sure she knew what she was getting into. And they said "the bigger the better."
Melissa and Chris even had their Lab mix Rory meet Rebel. "Everyone was so excited to see them play like best friends right off the bat," she said.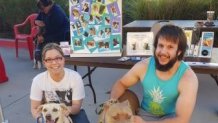 "Rebel has been the perfect fit to our family in every way! He plays nonstop with Rory," Melissa said. "Rebel has also really helped Rory come out of his shell and be more confident."

Melissa says Rebel loves to sleep in on weekends and is the "sweetest snuggle bug in the world."
"Chris and I are so thankful every day to the amazing staff at Hurst Animal Services for never giving up on Rebel," she said. "They saw past his breed and size to his big kind loving heart."
DAS DOUBLE ADOPTION
Bob and Jackie believe in adoption, so much so they have two adopted pups from Dallas Animal Services.
They already adopted had a 3 lb. Schnauzer three years ago, when they decided she need a playmate her own size. So when he found Waffles, he brought him home.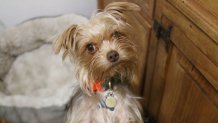 They renamed him Ruger because he's a "little pistol." Weighing just 2.4 lbs. when he was adopted Ruger fit in just fine.
"He did turn out to be the perfect friend for my Bella, and they sleep together, play, and even share a food bowl," said Jackie. "We couldn't be happier with our newest little guy!"
Bob and Jackie believe in adopting so much they foster other dogs and will be volunteering at the Dallas Animal Services for Clear the Shelters on Aug. 19.
LAYLA AND LUCKY
Ellie and Scott rescued Layla from the SPCA in Dallas and they "absolutely adore her" and say the black pit bull mix is "a wonderful dog."
But when Ellie and Scott lost their shepherd, they adopted again in 2016 and named her Lucky.
"They get along beautifully, have from day one," Ellie said.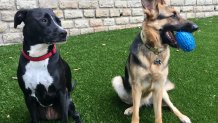 Layla and Lucky prove Ellie and Scott's motto "Adopt a Stray - Make Their Day!"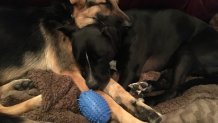 CLEAR THE SHELTERS 2017
The third annual Clear the Shelters event, a nationwide pet adoption initiative, will be held Aug. 19, 2017. Hundreds of shelters in 20 states, Washington, D.C. and Puerto Rico will waive or discount fees as part of the one-day adoption drive.
Dozens of local shelters will take part this year in Clear the Shelters. Refer to the interactive map below to identify a participating shelter near you.
The goal is to #ClearTheShelters by finding forever homes for as many animals as possible.