What to Know
Pockets of light rain/sleet or snow may develop later this evening
The commute will be dry through the afternoon
Widespread travel problems aren't expected, but some bridges and overpasses could get slick
S Band Radar & Maps | Forecast | Weather Alerts
Traffic | Send Us a Photo/Video | Live Cams
Live video from the NBC 5 Weather Center will appear in the player above.
There's a chance of a light wintry mix of rain, sleet and snow Friday afternoon and evening in North Texas after a strong cold front brought a rapid drop in temperatures.
The latest video forecast from NBC DFW team of Weather Experts will appear in the player above. Keep up with the latest changes to the weather by downloading the NBC DFW smartphone App for iOS and Android!
A Winter Weather Advisory remains in effect for portions of North and Central Texas until 3 a.m. Saturday. Sleet accumulations up to one-quarter inch are expected. Plan on slippery elevated roads or bridges.
In most locations, the sleet is expected to be very light and no significant travel impacts are expected across DFW. But to the south, there may be a few heavier bands of sleet, with perhaps as much as 1/4 inch of sleet accumulating on a few bridges and overpasses.
The coldest air settled in Friday morning, dropping temperatures well below freezing with many areas down into the low 20s. Feels-like temperatures dipped into the teens for some.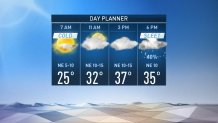 The Texas Department of Transportation said crews began pretreating roads for potential winter weather. TxDOT asked drivers to be cautious and give road crews plenty of space.
It will take a while to warm back up again. Highs will be in the 30s Friday and the 40s Saturday with temperatures staying cool until Monday, when they're expected to get close to 60.
Strong Storms Bring Wind u0026 Hail Thursday Morning
Get the latest forecast information from NBC 5's team of Weather Experts here.
Local
The latest news from around North Texas.
---
---