It was a violent holiday weekend in Dallas, at least ten people were shot and three died in two shootings late Sunday night.
The Dallas Police Department responded to at least five shooting calls from 10:30 p.m. to midnight along with calls about illegal fireworks.
Towns Street Shooting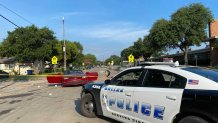 At around 11:15 p.m. Sunday, police were called to a shooting in the 8200 block of Towns Street.
According to Dallas police, five people were shot and taken to area hospitals, three were pronounced dead. They were identified Tuesday as 17-year-old Mi'quaris Alexander, 19-year-old Hassan Blazer and 22-year-old Alvin Ray Murray II.
The shootings happened where a group was celebrating in Hamilton Park according to police.
Police said Monday an arrest was made, but they did not release the person's name or the charges against them.
On Monday morning, the street was littered with markers as police counted bullet casings. Police say more than 100 rounds were fired. A Camaro sat in the middle of the road riddled with bullet holes.
Dixon Avenue Shooting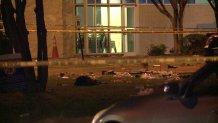 Police were called to a shooting in the 3700 block of Dixon Ave. in Southeast Dallas at around 11:50 p.m.
Local
The latest news from around North Texas.
According to police, there was a big crowd gathered at a park near the Larry Johnson Recreation Center where some people were shooting off fireworks.
Police said at some point gunshots rang out sending at least five shooting victims to the hospital.
Police are still investigating. The condition of the injured is unknown at this time.
Dallas Police Chief Eddie Garcia said Friday he expected officers to be busy over the holiday weekend. He deployed a special task force to tackle celebratory gunfire, drunk drivers, road rage, street racers and illegal fireworks calls.
On Saturday, Dallas police also held a press conference with community leaders to discuss issues with violence in the city.
Black and Latino clergy leaders stood alongside Chief Eddie Garcia and city council member Casey Thomas, pledging to work with DPD to protect their communities this summer.
"I'm gathering all the men of God together to man up so we can help turn our communities around and bring them back together. Of course, we're also going to work with the police department," said Rev. Ronald Wright, executive director of Justice Seekers Texas.
One of their plans includes Dallas Cred, a violence interruption program. It's part of the mayor's task force to reduce crime in targeted Dallas neighborhoods, by deploying trained community members to "Interrupt the violence" before it escalates.
"The senseless killings have caused all of us to band together. To put all differences [aside] and say something has to be done," said Mar Butler, Dallas CRED program director.
Garcia said the holiday patrols don't end when Independence Day ends. He plans to have the increased presence this summer and will work with businesses and other groups to help reduce crime.
"We will bring every tool to bear. Both conventional and nonconventional. We will have officers vigilant but we will also be working with businesses and other entities throughout our city," said Chief Garcia.