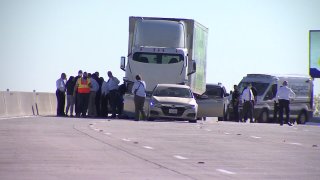 A second person has been indicted on a murder charge in the death of the Dallas rapper known as MO3, according to Dallas County court records.
Devin Maurice Brown, 28, was indicted on Thursday on a charge of murder in connection with Melvin Noble's death on Nov. 11, 2020.
Noble, 28, was gunned down on Interstate 35E, near Marsalis Avenue, as he ran on foot down the highway from the shooter, Dallas police said.
Brown is the second person to be indicted in Noble's death and is being held at the Limestone County Jail, near Waco. The indictment, and subsequent release from the Dallas Police Department of Brown's arrest warrant affidavit were the first public mention that he was alleged to be connected to Noble's slaying.
Dallas police said in December that Kewon Dontrell White, 22, was the man suspected in the fatal shooting on the highway. White was charged with murder and indicted on the charge in February, according to court records.
White was also indicted Thursday on a charge of aggravated assault with a deadly weapon in connection with the shooting in November. A bystander who was sitting in his vehicle was also wounded when the gunman opened fire, police said.
An arrest warrant affidavit for Brown stated a witness reported Brown was upset over a relationship that involved Noble and the witness, and that Brown had contacted another witness multiple times before Noble's death to ask if he was at a specific location.
Local
The latest news from around North Texas.
In an interview in a police detective, Brown said he had recently learned that Noble had been dating a "known witness" and that he was was upset over a Facebook video that involved Noble, but denied any involvement in the slaying, the affidavit stated.
According to the affidavit, records showed "numerous" calls between Brown and White the day before and day of the shooting, and cell phone data placed White in the area of the location Noble stayed the night before the shooting, and near the scene on Nov. 11.
When asked about the phone records, White told officials the number might be his, but said he could not remember his numbers, the affidavit stated. White also denied that he knew Brown or had any association with him.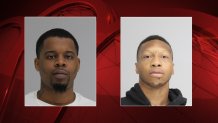 Both Brown and White have also been indicted on federal charges.
The two men, who are described as affiliates by the office of the U.S. Attorney for the Northern District of Texas, were indicted in December on one count each of felon in possession of a firearm.
Brown was also indicted on one count of one count of conspiracy to possess with intent to distribute a controlled substance, according to the U.S. attorney's office.
According to a criminal complaint, law enforcement conducting a search of Brown's home found a stolen AK-47 in his closet as well as a substance that tested positive for synthetic cannabinoids, often referred to as K2 or spice, methamphetamine tablets, scales, baggies and more than $3,200.
A second criminal complaint alleges law enforcement found a 9mm pistol in White's pocket. White fled on a dirt bike and then on foot when officers tried to stop him, the U.S. attorney's office said.
If convicted of the federal charges, White faces up to 10 years in federal prison and Brown faces up to 20 years on both the drug and gun charges.