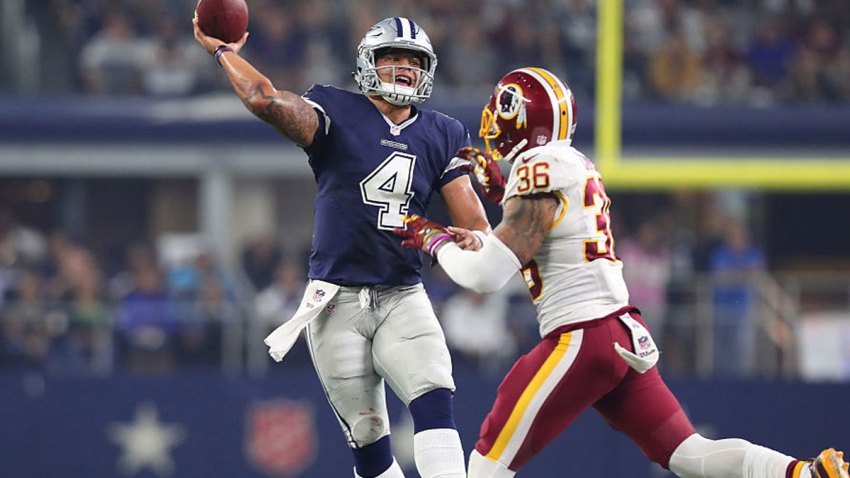 Rookies Dak Prescott and Ezekiel Elliott keep winning for the Dallas Cowboys, even with Kirk Cousins setting records for the Washington Redskins.
Prescott accounted for two touchdowns, Elliott ran for a pair of scores and the Cowboys extended their franchise regular-season record with a 10th straight victory, beating the Redskins 31-26 on Thursday.
Prescott tied Don Meredith's club quarterback record from 50 years ago with his fifth rushing TD and the NFL-leading Cowboys (10-1) won despite 449 yards passing and three touchdowns from Cousins, the first Redskins quarterback with two 400-yard games in a season.
Local
The latest news from around North Texas.
"You know you're talking to someone who knows how hard this is to win 10 games in a row, and I do," Cowboys owner and general manager Jerry Jones said. "I know how we're getting it done, and we're getting done by hard work and Dak's a great example."
The Redskins (6-4-1) got swept by their NFC East rival, and the defending division champions fell 3 1/2 games behind Dallas with five games left. It was their seventh loss in eight tries on Thanksgiving against Cowboys, who had never won more than eight straight in the regular season.
"We've been in third place for a while, so we have to understand where we are what it's going to take to get an opportunity to come back here in the future," Washington coach Jay Gruden said. "The last five games of the year are critical."
Elliott, the NFL rushing leader, had the fourth score on five straight second-half touchdown drives between the two teams with a 1-yard run for a 31-19 lead midway through the fourth quarter. The 21-year-old had 97 yards to give him 1,199 for the season.
After getting 43 yards on the first Dallas possession, Elliott had just 13 yards before a 21-yarder to start Dallas' last TD drive. It was the second straight week he finished with 97 yards after some difficulty in the first half.
"Over time, you keep running the football, you're going to wear them down," Dallas coach Jason Garrett said. "He made some big runs late that were critical. It really broke their back."
The Cowboys had an eight-game streak with at least 400 yards snapped, finishing with 353. But Dallas answered with touchdowns each time the Redskins got within a score on Cousins' passes of 5 yards to Jordan Reed and 67 yards to DeSean Jackson, who had 118 yards receiving.
After Cousins' second scoring toss to Reed, an 8-yarder with 1:53 remaining, Dustin Hopkins' onside kick went out of bounds. The Cowboys ran out the clock.
"The way Dallas was able to come back and put points on the board in those situations is part of the reason why they are such a good football team," said Cousins, who was 41 of 53 and finished 8 yards shy of his career high.
"As an offense, whenever we got the football, it was pretty much the same. Move the football, put points on the board, make good decisions and manage it well."
Cousins took the Washington career lead with his third 400-yard game and became the first Redskins quarterback with consecutive 350-yard games since Jay Schroeder in 1986. He had 375 last week against Green Bay.
Reed had 10 catches for 95 yards after missing most of the first half when he injured his left shoulder leaping for a pass over his head in the end zone.
Prescott was 17 of 24 for a season-low 195 yards and one touchdown, a toe-tapper to Terrance Williams. He had eight carries for 39 yards, including a career-long 18-yarder.
Dez Bryant led Dallas with 72 yards on five catches.
Here are a few things learned after the latest Redskins-Cowboys holiday matchup:
No Love Lost
After professing their respect for each other before first their first meeting in Week 2, Bryant and high-priced Washington CB Josh Norman were facemask-to-facemask after Round 2.
"Tell Washington to get their money back," Bryant yelled at reporters on his way into the locker room. During the game, Bryant was most upset when Norman grabbed his leg after a tackle on a catch in the second half. They had to be separated after the game.
Some Numbers
While Cousins threw for 449 yards and three touchdowns, all of the scores coming in the fourth quarter, the Cowboys are the only NFL team this season that still hasn't allowed a 100-yard rusher. ... Dallas was held to 353 total yards, ending their streak of eight consecutive 400-yard games. That matches the NFL record with the 2007 New England Patriots and 2013 Denver Broncos.
Tough Reed
When Redskins TE Jordan Reed fell hard on his shoulder in the first half, it wasn't clear if he would return.
"I was a little surprised," Cousins said. "He can't watch, he wants to play." Reed finished with 10 catches, including seven for two TDs in the fourth quarter.
Tony's Thanksgiving
Tony Romo hasn't played a regular-season game for the Cowboys since their Thanksgiving Day game last season, when he broke his collarbone for the second time in a matter of months. He has now been active as Prescott's backup the past two games after a back injury in the preseason.
Copyright AP - Associated Press