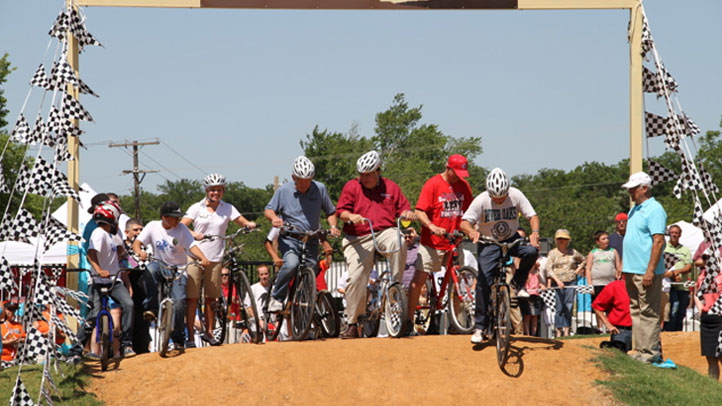 Bicycle motor crossers now have a little slice of riding heaven all to themselves in River Oaks.
Local
The latest news from around North Texas.
The city — through a gift from Chesapeake Energy Corp., which will want to start drilling there any day now if they don't already — recently opened a dedicated BMX course at Wooldridge Park. As evidenced by the associated photo of River Oaks Mayor Herman Earwood riding the course and a quote from River Oaks Police Administrator Linda Claridge in the official press release, "The track can be ridden by anyone, regardless of age or skill level."
It's a a good thing, too, because, according to that same release, "there are virtually no sidewalks within River Oaks neighborhoods" and damn kids kept riding their bikes on the streets. Kids today got no respect for their mumble mumble, rant, rave, gibberish under the breath ....
The trail represents but a portion of park amenities written into the Wooldrige Park master plan. River Oaks residents soon will have a skateboarding area, splash park, picnic tables, and multiple playgrounds so everybody can have fun out there.
Everyone, that is, except daredevil sporting motorcyclists like those who commandeered a section of Central Expressway in Dallas during the Memorial Day weekend.
Uh oh, might have just given them an idea. Heads up, kids.
---
Bruce Felps owns and operates East Dallas Times, an online community news outlet serving the White Rock Lake area. He probably hasn't forgotten how to ride a bike, but bikes don't remember him at all.
Copyright FREEL - NBC Local Media