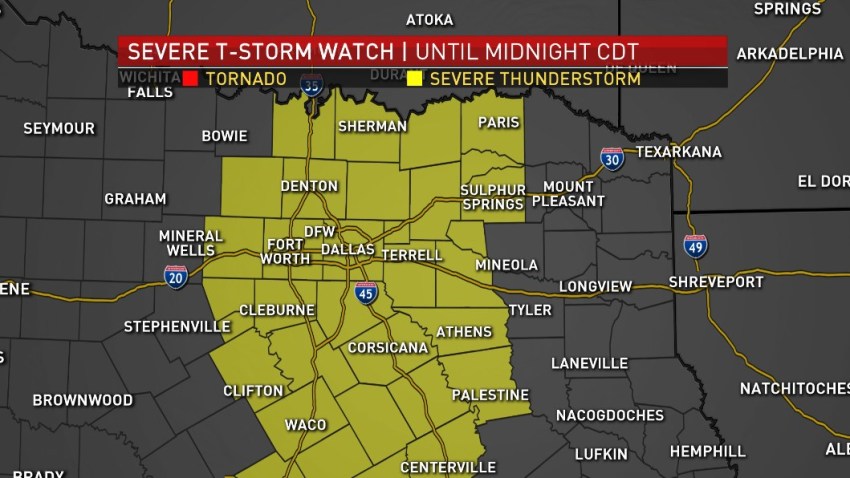 S Band Radar & Maps | Forecast | Weather Alerts
Traffic | Send Us a Photo/Video | Live Cams
A Severe Thunderstorm Watch is in effect until midnight Saturday for much of North Texas.
Local
The latest news from around North Texas.
Friday Night Risk
Severe thunderstorms rolled through North Texas bringing damaging wind and occasional large hail Friday evening. NBC 5 Chief Meteorologist Rick Mitchell said a strong south wind on Friday warmed temperatures into the 80s, giving us warm and muggy conditions as well as the energy needed for the development of strong to severe thunderstorms as a cold front approached from the northwest. Hail,
Once the front moved south of any location, the threat of severe weather ended in that location. The strongest storms produced large hail, some larger than golf balls.

Your Storm Photos - April 6, 2018
While the storm threat diminished, North Texans need to be prepared for much colder weather on Saturday. A strong north wind will make it feel like it's in the 30s and 40s throughout the day. In fact, areas northwest of DFW are under a Freeze Warning early Saturday morning! Skies will be mostly cloudy and there could be some patchy drizzle. Temperatures will begin a gradual rebound Sunday.
Get the latest forecast information from NBC 5's team of Weather Experts here.
Latest Video Forecast
The latest video forecast from NBC DFW's team of Weather Experts will appear in the player above. Keep up with the latest changes to the weather by downloading the NBC DFW smartphone App for iOS and Android!
Check back and refresh this page for the latest update. As this story is developing, elements may change.