Passengers who use Uber or Lyft will have designated pick-up and drop-off locations in Deep Ellum starting Thursday. The new plan is an effort to decrease traffic build-up.
"Just this street alone turns into a two way congested place with people parking on both sides, so now with this rideshare I feel like it's really going to open up," said Josh Price, owner of Trinity Cider.
According to Dallas city leaders, the new zones will provide passengers access within one to two blocks of the core of the neighborhood.
Dallas City Council Member, Adam Medrano, said not only is the plan aimed at addressing the flow of traffic and pedestrians, but emergency situations as well.
"The reason why this came about and why we wanted to tackle it so quick was a little bit after the summer, last year the fire department came out to visit with me and said 'if there's a fire, if there's an emergency, there's no way we're going to able to help someone that's in need,'" said Medrano.
The city of Dallas provided a map of the designated area. Ride-share drivers will not be allowed within the blue area, which is lined by Commerce Street, Good Latimer Expressway, Monument and Indiana, and Malcolm X Boulevard.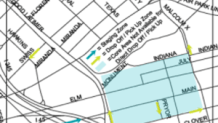 Drivers who do not follow the guidelines may receive a citation. The plan will go into effect Thursday, 24 hours a day and seven days a week.
The drop-off and pick-up locations include:
Local
The latest news from around North Texas.
-Good Latimer Expressway northbound between Main and Commerce streets
-Commerce Street eastbound between Crowdus Street and Malcolm X Boulevard
-Pryor Street southbound between Main and Commerce streets
-Malcolm X Boulevard northbound between Indiana and Julius streets
-Swiss Avenue westbound between North Hawkins Street and Good Latimer Expressway
The Dallas Police Department says there will not be a 24/7 police and security presence at the locations. However, extended Neighborhood Patrol Officers (off-duty DPD) and security officers provided by The Deep Ellum Foundation will monitor each location for safety during the busiest evenings and Friday and Saturday nights from 9pm - 4:30am, according to the DPD.
The enforcement zones will also relax between 3-3:30am for Deep Ellum employees, according to Dallas Police.
Medrano said city leaders will review how the system works this weekend and take into consideration feedback from drivers and rideshare users.