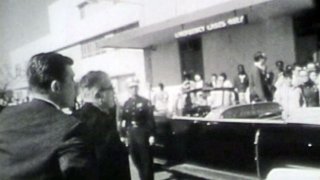 It has been 55 years since the trauma emergency room at Dallas' Parkland Memorial Hospital became the center of the known universe.
"We heard people had been shot," said retired Tulsa surgeon Dr. Jerry Gustafson. "We heard the president had been shot. But it wasn't like today. It was chaotic. We didn't know. We just knew there were a lot of people coming into our emergency room."
Gustafson was among the small staff of doctors and others on duty at Parkland on Nov. 22, 1963, the Tulsa World reported.
President John F. Kennedy had been fatally shot on the streets of Dallas. He was rushed to Parkland Hospital just north of downtown, where a small group of medical personnel were going about routine tasks.
Suddenly, the eyes of the world were on that hospital.
"We did not think about the historical impact," Dr. James Carrico said on a video made for the Sixth Floor Museum at Dealey Plaza in Dallas. He was an emergency room surgeon that day. "Only later did we realize the whole world had changed."
Time has not dimmed the significance of that day and of where they were working.
Local
The latest news from around North Texas.
"Jim (Carrico) was down in the emergency room when the first person that had been shot came in," Gustafson said. "I was up in X-ray."
It didn't take long for Gustafson to realize this was no ordinary day.
"Jim called me to come down to help," Gustafson said. "When I got down there, the first thing I noticed was a woman in a pink dress. She was standing next to a person lying there. It was the president."
Gustafson said the emergency room was filled with "very well-dressed people. There were just so many people in there."
Carrico had already started working on the president.
Another gunshot victim was in one of the trauma rooms, and Carrico directed Gustafson to go to work on that person.
"I went in there and I had no idea who it was," Gustafson said.
It was Texas Gov. John Connally.
"He was wounded badly," Gustafson said. "But he was alive. We had a chance."
A gunshot had gone through Connally's back and out the chest. He was also wounded on the wrist and left leg.
"You don't think about history or anything in that situation except for what you are doing," Gustafson said. "I didn't know who the man was that I was working on. I just knew I had to get his chest closed."
As he was working on Connally, another doctor, Red Duke, came in to help. Duke became nationally famous for his Dr. Red Duke's Health Reports, which aired on local television stations for 15 years.
"We started working together, and at some point, I realized it was Gov. Connally," Gustafson said.
Gustafson became lifelong friends with Connally, who died in 1993.
"He was one of the most gracious people I've ever met," Gustafson said. "On the day he was going home from the hospital, I remember he wrote a letter and had it copied for every person that worked at the hospital. Then, he went around and hugged every person he could find."
Plenty of drama was unfolding at the hospital long after the initial treatment of Kennedy and Connally began.
At one point while working on Connally, "a man with a machine gun came into the room and demanded everyone get out for a security check," Gustafson said. "Red told him we weren't going anywhere, and we didn't."
Later, when Gustafson picked up the phone to schedule Connally's surgery, there was someone on the other end.
"I told him to get off the phone, and he told me he was J. Edgar Hoover," Gustafson said. "He asked me to describe exactly what I was seeing in the emergency room. I told him I'd never seen anything like it -- that there were a lot of the people that probably worked for him. One man -- the president -- was gone, and one man was going into surgery."
Early in the interview for the Sixth Floor Museum at Dealey Plaza broadcast on C-SPAN's "American Perspectives," Carrico remembers a coin flip with Gustafson to see who would work on an X-ray study. "Jerry won the coin flip, and he won the X-ray study," Carrico said.
Gustafson remembers it was a slow day up to that point. There was an X-ray to study and three minor emergencies in the emergency room.
"We flipped to see who was going to go down and do the X-ray study," Gustafson said. "The other was going to go see the three patients in emergency.
"Whoever was going to see the three patients was going to miss lunch. So I guess I won the coin flip."
Later, as the hospital started to receive gunshot victims of the assassination, Carrico called for Gustafson to come back to the emergency room.
"When I got down to the emergency room, there were still people running through the doors to get inside," Gustafson said. "I guess the first time I realized what had happened is when I got down there and saw Mrs. Kennedy."
Two days later, Gustafson was still on duty -- 36 hours on and 12 hours off -- as a resident at Parkland.
Again, it was a moment in history.
"The next thing we heard there had been a shooting at the jail," Gustafson said. "The next thing we know Lee Harvey Oswald is in the emergency room, along with a couple of policemen that had been shot."
Gustafson went on to become an Army surgeon, serving in Vietnam at a 600-bed hospital with 11 surgeons.
Eventually, Gustafson, a St. Louis native, came to Tulsa in 1968 and had a long and distinguished career providing health care to generations of Oklahomans. He was responsible for many of the innovations in trauma and emergency care in Tulsa.
His memory of that awful day in Dallas has not diminished. He recorded a "Voices of Oklahoma" segment about his experiences with former KRMG radio personality John Erling in 2013.
"It was a different time," Gustafson said. "Back then, there wasn't this instant information. We heard the president might have been shot, but we really didn't know. I don't think any of us knew until they came in the doors."
Copyright AP - Associated Press