Even before the raid started, ATF Agent Tom Crowley knew the danger.
"We had information they had automatic weapons, 50-cal(iber) weapons, hand grenades," he said.
Crowley was on the Bureau of Alcohol, Tobacco and Firearms special response team in Dallas – one of 77 agents chosen to raid the Branch Davidians' religious compound on Feb. 28, 1993.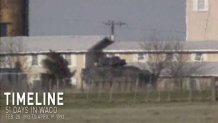 "It was the element of surprise you needed for this to be successfully completed," Crowley said. "You're out in the middle of nowhere. If you're approaching, they're going to see you for probably a mile."
So Crowley's group and other teams from Houston and New Orleans drove up to the sprawling compound hidden in cattle trailers.
Local
The latest news from around North Texas.
But the Davidians were waiting that Sunday morning.
"We're gearing up. I think we were supposed to go at 10," Crowley said. "All the sudden, one of the commanders comes in and says, 'They know we're coming. We've got to get going now.'"
The ATF knew that the Davidians knew, because an undercover agent was inside.
The Davidians learned about the raid because agents had alerted a Waco ambulance company about what was about to happen. An employee told a friend who was a news photographer. He inadvertently told a mail carrier nearby, not realizing he was a member of the Branch Davidians.
Crowley spoke to NBC 5 this week in his Grand Prairie home. He retired from ATF five years ago.
"One of the reasons we were going Sunday morning at that time was all the men were supposed to be outside of the complex doing construction work away from the weapons," Crowley said.
But when the agents pulled up, nobody was outside.
"And, my God, I wasn't the only one to think this. I mean, this isn't good. They're supposed to be outside," he said.
The agents jumped out of the cattle trailers and started the assault, which they had practiced at nearby Fort Hood.
Crowley was supposed to be the fourth one in the front door.
He never made it that far.
"And from inside to outside, dozens and dozens of bullets are coming out," he said. "I mean, it was just shattering the door. Then there were bullets coming from every window. There were bullets coming through the walls, you know. Everybody in that place had to be armed and using their weapons. I mean, there were hand grenades they were throwing out the windows – actual grenades."
Crowley found himself stuck between the Davidians and fellow agents.
"They (the agents) were firing in. The Davidians were firing out, so we were in the crossfire," he said, pointing to an aerial photo of the compound.
In the shootout, six Davidians and four ATF agents were killed. Many others were wounded. It was a chaotic scene. Some agents were trapped on the roof.
"You didn't know what the hell's going to happen," Crowley said.
Crowley and other agents used a makeshift stretcher to carry the wounded and the dead away from the compound.
"I thought to myself, 'It's dead weight, and it's heavy,' but I told them, 'Let's not let his body touch the ground here,'" he said. "It was a lot of emotions going through."
During a break in the gunfire, Crowley and the others made it to safety.
"Eventually we had to hop this small fence," he said.
Looking back, Crowley says commanders made a huge mistake by speeding up the raid and not calling it off.
"Oh, my God, yes," he said.
That decision only reinforced leader David Koresh's twisted thinking, he said.
"You have to realize what this guy was looking at," Crowley said. "He was thinking Apocalypse. We played right into his hands."
Crowley, a police officer in St. Louis County before joining the ATF, returned home several days later to find his neighbors had put a "welcome home" banner outside his house.
He later received a heroism award from ATF's top bosses in Washington D.C.
Crowley said he's still amazed that only four agents were killed that day.
"We did the best we could with what we had and what we were up against," he said. "If you didn't think your life is in God's hands that day, you knew afterwards."