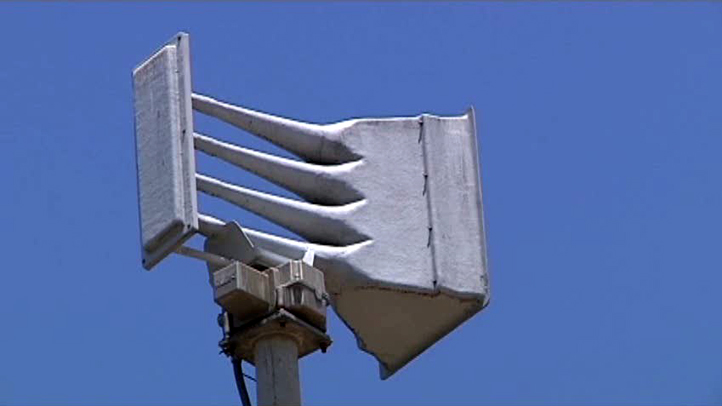 Sirens sounded across the Metroplex on Tuesday, but a south Fort Worth resident says his neighborhood's siren went off too late.
Kevin Stein sent an email to emergency officials about his concerns. He said he called 911 after seeing rotation in the clouds at about 8:30 p.m.
"I dialed 911 from my phone ... to report rotation in the clouds above my residence at ... and that no sirens were being sounded," he wrote.
Local
The latest news from around North Texas.
Stein said he was especially concerned because children were outside playing at the time.
On top of that, the National Weather Service had extended its tornado warning for all of Tarrant County, he said. Despite that, he did not hear sirens along Sycamore School Road.
Officials at the Fort Worth Emergency Operations Center sounded sirens four times Tuesday night.
Juan Ortiz, the city's emergency management coordinator, said the staff takes careful consideration when they turn the sirens on.
In order for sirens to be sounded, winds must reach 60 mph, hail must be larger than an inch in diameter or a tornado must either already be on the ground or about to touch down.
"Sometimes we are going to alert for rotation up in the clouds because there are other factors that come into play that we feel strongly that that will be a tornado here real quickly," Ortiz said.
He said he wasn't surprised to hear of concerns in the wake of a storm system. Residents often say the warnings were too few or too many, which is why deciding to set them off is thought-out and analyzed, Ortiz said.
"You don't want to constantly be warning all the time if it doesn't come to reality, and then we have a cry-wolf situation," he said.
Ortiz said the point of the outdoor warning system is to get those outdoors in the most imminent danger the knowledge that they need to go inside and get information.
"It's a constant battle that we make sure we sound the right sirens at the right time to maximize the intent to allow folks to come indoors and find out what's going on," he said.
Stein said he was concerned that the city wasn't alerting residents while the National Weather Service had a warning in place.
The city talks with the weather service but decides on its own when to turn on the sirens and where.
The old warning system use to turn on the sirens all over the city. Fort Worth's newer system allows officials to be more precise and not warn residents in the north part of the city about a storm that impacts only the southern part.
For more on the city's warning system, click here.
For more on how to be prepared for a storm, click here.