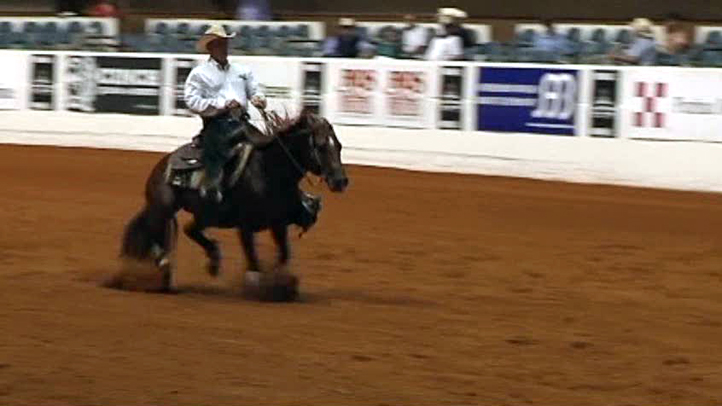 The National Reining Horse Association has taken over the Will Rogers Memorial Center in Fort Worth this week.
The sport of reining is like figure skating meets NASCAR on a horse. This week, the National Reining Horse Association brings its first ever show to Fort Worth and Texas.
"It's high-speed, action-packed with some of the world's best equestrian athletes," said Dan Wall, NRHA's executive director.
Local
The latest news from around North Texas.
Reining events happen throughout the year at the center, but the Cowtown Classic is a much bigger deal because it's put on by the NRHA.
The organization only puts on four shows a year -- two in Oklahoma City and two overseas. But when officials started looking for a city to host a fifth NRHA-run show, Fort Worth was a perfect fit.
"Fort Worth basically sold us on it; there was really no other place to go," Wall said, adding that the Will Rogers Center's facilities are some of the best in the country and that city has plenty to offer competitors and their families.
Competitors such as Matt Mills of Scottsdale, Ariz., say they are impressed with the city and the center so far.
"All of the air-conditioned arenas, the footing is really nice now -- I can't fault the show," Mills said. "I mean, I'm just having a great time, and the horses are working well."
Wall said 600 horses and 1,300 participants are at the event, which is just the beginning of what his organization plans to be a long-running one.
"It's just a spark," he said. "The fire is yet to come."
It could mean big business for the city of Fort Worth. Officials estimate the inaugural event will bring in $5.5 million to the local economy.
"The equestrian industry is such a big market when it comes to bringing visitors and money and spending into a community," said Kirk Slaughter, director of public events for Fort Worth. "And Fort Worth has developed its facilities in order to attract these pieces of business, and this one is big."
The competitors say they believe this is just the beginning, too.
"I'll be back every year, that's for sure," Mills said. "I hope there are many more events here."
Fort Worth is in the process of adding $30 million in new facilities to the Will Rogers Memorial Center.