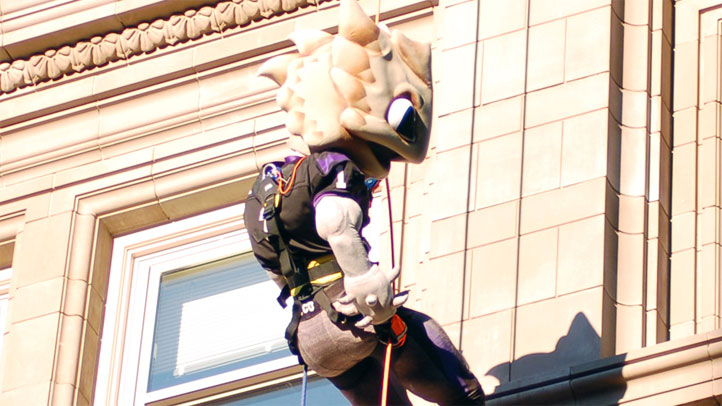 For the second straight year, daring North Texans are invited to rappel down an in conic building in downtown Fort Worth for charity.
This year's Over the Edge event will take place at the 20-story Chesapeake Energy building on the northwest side of downtown. Views from the top will give participants an unparalleled view of downtown and the Trinity River. They assure us it's really safe and the hardest part is getting over the edge.
If you're brave enough to go over, you'll need to pony up some cash. Each participant is charged with raising $1,000. So, call your well-heeled friends and start collecting donations. It may help if you promise to rappel in a Batman costume. (*Actually, I don't think capes are allowed, so check ahead before you show up dressed as a super hero.)
Local
The latest news from around North Texas.
The money raised goes to Downtown Fort Worth, Inc., a non-profit dedicated to continuing Fort Worth's transformation into a vibrant place to live, shop and work. Any amount raised over $1,000 can be donated to the charity of your choice.
Once there, participants will be outfitted with a full-body industrial harness and an industrial descender that can help control the speed of return to terra firma. Don't worry, if you get going too fast, a back-up device will engage and slow you down. There is also a training session beforehand where you can wear the equipment, practice a short descent, etc ... they aren't just hooking you up, wishing you the best and tossing you over.
If you're going to participate wear sensible shoes, i.e., sneakers. No sandals, high heels or flip flops. You should also wear long pants and a long-sleeved shirt. No phones or anything droppable will be permitted on the roof or on the descent, however, if you have a helmet-mounted camera, such as a GoPro camera, those are OK.
Only a limited number of people can participate in Saturday's event, so if you haven't already reserved your spot you'll need to call 817-870-1692 to inquire about a slot.
If rappelling isn't your thing, you chicken, you can still come out and watch others take part. Located safely on the ground are a few shaded tables and blankets where oglers can lay back, relax and watch brave soul after brave soul skip down the building.
Additionally, there will also be a free rock climbing wall, face painting for kids, food trucks, a live radio broadcast and more. Of course, those just watching can make donations of any amount to DFWI ... or to any number of rappellers short of their fund-raising goal.
The event begins at 9 a.m. Get more information here.