The first of 10 crosswalks were installed this week in the neighborhood known as the heartbeat of the North Texas LGBT community.
The crosswalks are a part of a larger upgrade and beautification of the Oak Lawn community. There are plans to create more parking and install more ramps on sidewalks and intersections to make sure that inclusion truly includes everyone even those with disabilities.
The 10 crosswalks were approved by City Council as part of a $1.4 million plan to improve Cedar Springs Road between Douglas and Oak Lawn avenues, The Dallas Morning News reported in 2019.
"This is still the geographic heart of our community," North Texas LGBT Chamber of Commerce president and CEO Tony Vedda said. "So, I think people will feel pride in knowing that we are doing something to not just preserve this community but to really make it stand out."
The first rainbow crosswalk went up at the corner of Cedar Springs Road and Oak Lawn Avenue in Dallas. Several others will come in the weeks to come. There will be four rainbow crosswalks at Cedar Springs Road and Throckmorton, making a square. The remaining crosswalks will be at Reagan Street, 9th Street and Douglas streets.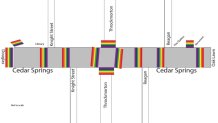 The installation of the crosswalks cost an estimated $128,000, which was raised privately by several groups, business owners and elected leaders. With Cedar Springs serving as the gateway to Love Field, Southwest Airlines stepped up as a sponsor.
Local
The latest news from around North Texas.
"It really sets us apart as a community," Vedda said. "So, if people come to the area of town and they see the crosswalks, then they know they are in the LGBT community and hopefully that says to them they are in a community that is welcoming to everyone."
"Finally!" wrote Adam Medrano, Dallas Mayor Pro Tem and chair of the city's LGBT task force. "Today is a day of celebration and it would not have been possible without the help of the LGBT Taskforce, the many financial donors, the North Texas LGBT Chamber of Commerce, and the community for working towards this goal!"
NBC 5's cameras captured people stopping to take pictures and selfies as the road crews installed the fresh colors.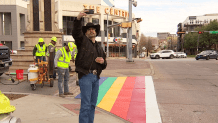 The rainbow-colored intersections also follow the lead of other Texas cities — Houston, San Antonio and Galveston — that installed their own rainbow crosswalks in the past two years.
Chris Luna, who in the 1990s was one of the first openly gay Dallas council members, said city officials have considered the move for years. He said the project was complicated because it required coordination among three city departments: the Department of Transportation, which oversees traffic, the Bond Program Office that finances the project, and Public Works to approve street construction.