S Band Radar & Maps | Forecast | Weather Alerts
Traffic | Send Us a Photo/Video | Live Cams
The latest drought monitor released Thursday shows some improvement after last week's rain, but the drought still exists in North Texas.
We are no longer in Extreme drought, but almost all of North Texas remains in Severe to Moderate drought. As a result, some counties have dropped their burn bans, but not all of North Texas.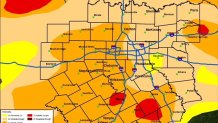 Below is what the drought monitor looked like last week.
Rainfall totals varied significantly across the region last week. Some locations picked up 5 inches, while others picked up well over an inch of rainfall Aug. 8 through Aug. 14. Overall, most of North Texas averaged around 2 to 3 inches of rain over the past week.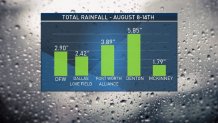 Since June 1, Dallas-Fort Worth International Airport has received 4.42 inches of rain. Normal precipitation from June through August is 6.76 inches, which means we are short by 2.34 inches.
Local
The latest news from around North Texas.
The good news is, we have more rain on the way early next week!
Get the latest forecast information from NBC 5's team of Weather Experts here.
---
---