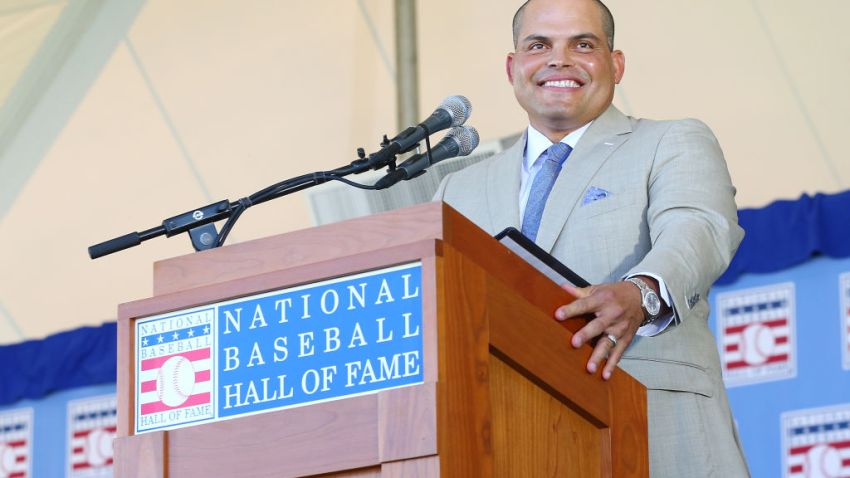 The moment finally arrived.
Former Rangers catcher Ivan "Pudge" Rodriguez joined the greatest to ever play the game of baseball on Sunday afternoon as he was inducted into the National Baseball Hall of Fame. Jeff Bagwell and Tim Raines were also part of the Class of 2017. All three were BBWAA selections to enter The Hall.
Pudge is considered one of the best catchers to ever step onto a baseball field. His 14 All-Star Game selections and 13 Gold Glove Awards are tops for any catcher in history. The Rangers signed Pudge at the age of 16 in 1988. He would go on to win the 1999 American League MVP by hitting .332 with 35 home runs, 113 RBI, 116 runs scored and 25 stolen bases.
Local
The latest news from around North Texas.
He left the Rangers via free agency in 2002 and signed a one-year deal with the Florida Marlins. Pudge was named the National League Championship Series MVP, helping the Marlins win the World Series that season. Pudge would later retire as a member of the Rangers in 2012.
Now, he enters the Hall of Fame displaying the Rangers hat.
"This is such an incredible honor for me," Rodriguez said. "A little kid from Puerto Rico with a big dream. Never let them take your dream away from you."
Pudge took some time during his speech to tell a funny story about another Hall of Famer and Rangers legend, pitcher Nolan Ryan. The first time he caught Ryan was in 1991 and remembers it like it was yesterday.
"Nolan came in and I saw Nolan and I was very impressed to see him," Rodriguez said. "The one thing he told me was 'kid you don't have to do too much' and I said 'OK.' He told me 'kid, all you got to do is put fingers down. I've got fastball, curveball, changup and the only thing you've got to do is put fingers down and I'll throw the baseball to you.' He ended up winning the game."
Right down I-45, Bagwell would become an Astros legend after being acquired from the Boston Red Sox in 1990 in what is considered one of the more lopsided trades in baseball history. All it cost the Astros was right-handed pitcher Larry Anderson.
It was a move that launched Bagwell's career as he would win the N.L. Rookie of the Year in 1991. Bagwell would later win the N.L. MVP in the shortened 1994 season that saw him make a run at the record books. Bagwell hit .368 with 39 homers and 116 RBI in just 110 games in a season that was cut short by a strike. He would play his entire 15-year career in Houston.
"What you've seen here today is a little boy's dreams come true," Bagwell said. "I am humbled."
Former baseball commissioner Bud Selig and decorated executive John Schuerholz were also elected by the veterans committee.
From humble beginnings to baseball immortality, two players that represented the Lone Star State during their careers took their rightful place in the Hall of Fame.
"Respect the game, love this game. Sometimes dreams come true," added Rodriguez. "Look at me. I am here on this stage, this special place, and my dream has become a reality. God bless baseball."
Copyright AP - Associated Press